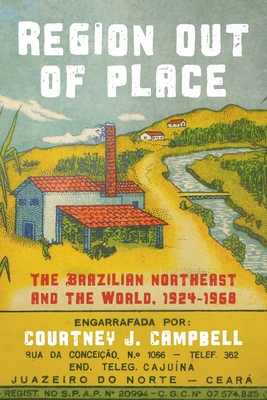 Region Out of Place
The Brazilian Northeast and the World, 1924-1968 (Pitt Latin American Series)
Hardcover

* Individual store prices may vary.
Description
The Brazilian Northeast has long been a marginalized region with a complex relationship to national identity. It is often portrayed as impoverished, backward, and rebellious, yet traditional and culturally authentic. Brazil is known for its strong national identity, but national identities do not preclude strong regional identities. In Region Out of Place, Courtney J. Campbell examines how groups within the region have asserted their identity, relevance, and uniqueness through interactions that transcend national borders. From migration to labor mobilization, from wartime dating to beauty pageants, from literacy movements to representations of banditry in film, Campbell explores how the development of regional cultural identity is a modern, internationally embedded conversation that circulated among Brazilians of every social class. Part of a region-based nationalism that reflects the anxiety that conflicting desires for modernity, progress, and cultural authenticity provoked in the twentieth century, this identity was forged by residents who continually stepped out of their expected roles, taking their region's concerns to an international stage.
Praise For Region Out of Place: The Brazilian Northeast and the World, 1924-1968 (Pitt Latin American Series)…
"Campbell takes the concept of regional identity and blows it up, showing that regional concerns were always mediated by national and international dynamics. This rich cultural history exposes the symbolic shorthand used to depict the Northeast and grants fresh insight into how actors constructed a regional identity with a variety of audiences in mind. The case studies presented here should interest students and tap into complex debates about representation and authenticity. Region Out of Place reveals that the local concerns of northeasterners in Brazil were far from provincial, and exposes how deeply modern Brazil, even in its farthest regions, remained integrated within larger world currents." —Anadelia Romo, Texas State University
 

"Students of regionalism have long acknowledged the impossibility of analyzing a region's history, politics, and culture apart from the nation. What is strikingly new and significant in Courtney J. Campbell's fascinating study of the Brazilian Northeast is her emphasis on the way the world beyond the nation served as a site for regional identity formation and as a resource for regionalists eager to demonstrate the centrality of the Northeast to the Brazilian nation and its vibrant culture. With chapters that explore such intriguing topics as wartime romances, World Cup soccer matches, and Miss Universe Pageants, Region out of Place offers not just an innovative perspective on the Brazilian Northeast but on the very question of how to understand regional identity." —Barbara Weinstein, New York University
 
University of Pittsburgh Press, 9780822946212, 304pp.
Publication Date: April 19, 2022
About the Author
Courtney J. Campbell is assistant professor in Latin American history at the University of Birmingham. Her research focuses on themes of cultural identity, globalization, spatial history, race, and gender in Brazil.