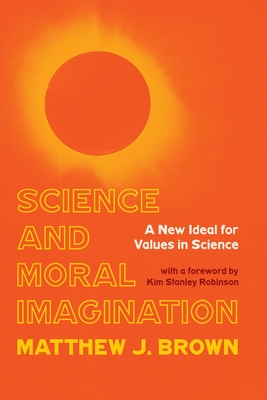 Science and Moral Imagination
A New Ideal for Values in Science (Science, Values, and the Public)
Hardcover

* Individual store prices may vary.
Description
The idea that science is or should be value-free, and that values are or should be formed independently of science, has been under fire by philosophers of science for decades. Science and Moral Imagination directly challenges the idea that science and values cannot and should not influence each other. Matthew J. Brown argues that science and values mutually influence and implicate one another, that the influence of values on science is pervasive and must be responsibly managed, and that science can and should have an influence on our values. This interplay, he explains, must be guided by accounts of scientific inquiry and value judgment that are sensitive to the complexities of their interactions. Brown presents scientific inquiry and value judgment as types of problem-solving practices and provides a new framework for thinking about how we might ethically evaluate episodes and decisions in science, while offering guidance for scientific practitioners and institutions about how they can incorporate value judgments into their work. His framework, dubbed "the ideal of moral imagination," emphasizes the role of imagination in value judgment and the positive role that value judgment plays in science.
Praise For Science and Moral Imagination: A New Ideal for Values in Science (Science, Values, and the Public)…
"Matthew Brown advances the literature on science and values in a manner that will serve multiple audiences. For the scientific community, he provides an inspiring new 'ideal of moral imagination.' For philosophers, he draws on the work of John Dewey to develop a rich pragmatist account of values and value judgments. This is an accessible and creative book."—Kevin Elliott, author of A Tapestry of Values: An Introduction to Values In Science
 

"Finally, a book that grapples in detail with the really hard, central questions concerning values and science—the nature, sources, kinds, and cognitive status of nonepistemic values, how they stack up against epistemic values, how conflicts among these nonepistemic values are to be resolved, and so on. Science and Moral Imagination will be a winner among students and professionals alike, from the sciences as well as science studies."—Janet Kourany, University of Notre Dame

"Citing the pervasiveness of choice and contingency throughout the research process, Brown cuts through misunderstandings to offer a welcome new account of values, one that suggests a new type of responsibility that is aimed at avoiding failures of moral imagination in scientific inquiry. Science and Moral Imagination provides a refreshingly pragmatic approach to the urgent question of how to manage values in science."—Erik Fisher, Arizona State University
 
University of Pittsburgh Press, 9780822946267, 288pp.
Publication Date: November 17, 2020
About the Author
Matthew J. Brown is associate professor of philosophy and director of the Center for Values in Medicine, Science, and Technology at the University of Texas at Dallas.