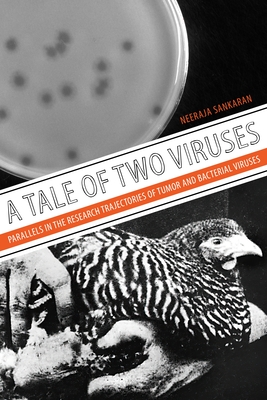 A Tale of Two Viruses
Parallels in the Research Trajectories of Tumor and Bacterial Viruses
Hardcover

* Individual store prices may vary.
Description
In 1965, French microbiologist André Lwoff was awarded the Nobel Prize in Physiology or Medicine for his work on lysogeny—one of the two types of viral life cycles—which resolved a contentious debate among scientists about the nature of viruses. A Tale of Two Viruses is the first study of medical virology to compare the history of two groups of medically important viruses—bacteriophages, which infect bacteria, and sarcoma agents, which cause cancer—and the importance of Lwoff's discovery to our modern understanding of what a virus is. Although these two groups of viruses may at first glance appear to have little in common, they share uniquely parallel histories. The lysogenic cycle, unlike the lytic, enables viruses to replicate in the host cell without destroying it and to remain dormant in a cell's genetic material indefinitely, or until induced by UV radiation. But until Lwoff's discovery of the mechanism of lysogeny, microbiologist Félix d'Herelle and pathologist Peyton Rous, who themselves first discovered and argued for the viral identity of bacteriophages and certain types of cancer, respectively, faced opposition from contemporary researchers who would not accept their findings. By following the research trajectories of the two virus groups, Sankaran takes a novel approach to the history of the development of the field of medical virology, considering both the flux in scientific concepts over time and the broader scientific landscapes or styles that shaped those ideas and practices.
Praise For A Tale of Two Viruses: Parallels in the Research Trajectories of Tumor and Bacterial Viruses…
"Neeraja Sankaran has written a splendid book for those interested in the history of virology. Her careful comparison of early work on bacterial viruses and cancer viruses illuminates two important and intertwined strands of twentieth-century biological research. 
A Tale of Two Viruses
will appeal not only to historians and sociologists of science but also to those working in the biomedical sciences." —
Gregory J. Morgan, Stevens Institute of Technology
"Sankaran has written a meticulous and fascinating book that offers new insight into twentieth-century discoveries about two seemingly distinct groups of viruses, ultimately revealing how we arrived at the present-day concept of the virus. As a tumor virologist, I gained much from her comparative approach, which is illuminating and novel to historical writing on virology." —
Robin Weiss, University College London
"A Tale of Two Viruses offers a lively comparative account of research on bacterial viruses and on Rous sarcoma virus. Neeraja Sankaran's dual portrait both corrects existing biases about the history of bacteriophage and shows how studies of phage were connected to research on other viruses, including in the contested field of cancer research, and long before molecular biologists themselves turned to tumor viruses after the late 1950s. Original and illuminating." —Angela N. H. Creager, Princeton University
"Sankaran masterfully transcribes her infectious enthusiasm for her subject, underpinned by a thorough mastery of archival material as well as a great respect for the available historiography. . . .
A Tale of Two Viruses
provides an excellent illustration of the narrative possibilities of Plutarchian parallel case studies. It will, hopefully, encourage similar explorations across the history of biology and the history of science and technology more widely." —
Metascience
University of Pittsburgh Press, 9780822946304, 312pp.
Publication Date: April 6, 2021
About the Author
Neeraja Sankaran is a historian of science and medicine with a primary focus in the recent and near-contemporary history of biomedical sciences. An independent scholar, she has held positions at universities in different parts of the world, including the United States, Egypt, South Korea, India, the United Kingdom, and the Netherlands.
or
Not Currently Available for Direct Purchase