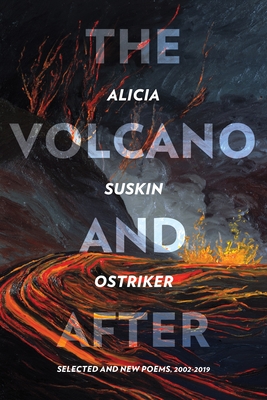 The Volcano and After
Selected and New Poems 2002-2019 (Pitt Poetry Series)
Hardcover

* Individual store prices may vary.
Description
Alicia Suskin Ostriker's passionate voice has long been acknowledged as a vital force in American poetry.  From urgent spiritual quest to biting political satire, from elegy to comedy, from celebration of the city street and the world "as a paradise might be / if we had eyes to see," to the "crack in earth . . . crack in her mind," from brilliant evocations of art and music to mother-daughter wrestlings, Ostriker's poetry rings with insistence on beauty and truth. Drawing from six of her previous books, and highlighting a sequence of bold new poems exploring the challenges and absurdities of aging, The Volcano and After is a masterpiece for our time.
 
OLD WOMAN AT THE RIVER
On the bank of the river
I slide inside my sleeping bag
sleep is good if I am not
kept awake by coughing
the sound of the water soothes
time passes and does not pass
when I am better I will sit
and meditate for a while
there may be birds to listen to
then I will step down the bank
and put my naked foot in the water
which will shock at first,
being so cold, so swift.
Praise For The Volcano and After: Selected and New Poems 2002-2019 (Pitt Poetry Series)…
"These capacious poems are smart, passionate, witty, acutely observant, heart-stabbing. They contain multitudes, embracing both 'hot beauty' and 'thick and magnificent rage,' 'the impulse to destroy' and 'the body . . . keen for pleasure again,' along with a bounty of other precise nuances of thought and perception. Alicia Ostriker binds together the contradictions of our contemporary lives in an insistent music that does what all real poetry does—'it becomes true.'"—Ellen Bass


 

"Alicia Ostriker continues to grapple with and celebrate the life of a woman—wife, mother, lover, friend, teacher, and citizen of the world. Because of her age, as well as the precariousness of our times, Ostriker seems to speak even more forcefully, as if a confrontation with ultimate loss has engendered a vibrant flowering. Her devotion to the physical world—to what gives beauty and value to our lives, to pleasure—for example, her candid and brilliant explorations of sex in old age. At 80, she proclaims, she hasn't had her last sex—has always made her the rarest gift to readers who, like me, rely on poetry for example. And we have so few examples at this age!  Elder stateswoman Ostriker forges ahead, more audacious and sure-footed than ever, invigorated by her task to take us with her all the way."—Toi Derricotte
 

"In a voice absolutely her own—wild, earthy, irreverent, full of humor and surprise—Ostriker takes on nothing less than what it feels like to be alive."  —Joan Larkin

"This volume offers an engaging look at Ostriker's long and rich career." —Publishers Weekly
 
University of Pittsburgh Press, 9780822946403, 214pp.
Publication Date: September 8, 2020
About the Author
Alicia Suskin Ostriker is a major American poet and critic.  She is the author of sixteen previous poetry collections, including The Book of Seventy and Waiting for the Light, both winners of the National Jewish Book Award, and The Old Woman, the Tulip, and the Dog.  She has received the Paterson Poetry Prize, the San Francisco State Poetry Center Award, the William Carlos Williams Award, and has twice been a finalist for the National Book Award among other honors.  Her critical work includes the now-classic Stealing the Language: The Emergence of Women's Poetry in America, and other books on poetry and on the Bible. A Distinguished Professor Emerita of Rutgers University, Ostriker is currently a Chancellor of the Academy of American Poets, and the New York State Poet Laureate.