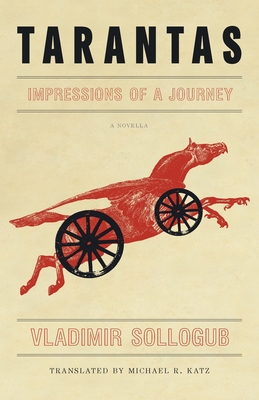 Tarantas
Impressions of a Journey (Russian and East European Studies)
Hardcover

* Individual store prices may vary.
Description
In this 19th century Russian social novella, two contrasting characters—one a western-educated intellectual, the other a hidebound country squire—find themselves thrown together on a long cross country journey in a primitive but sturdy carriage—a tarantas. Their shared observations as the troubled panorama of the Russian countryside rolls past is the basis for this commentary on the country's prospects for social change. Renowned translator Michal R. Katz offers the first new translation of this overlooked novella since the late 1800s, shortly after original publication.
Praise For Tarantas: Impressions of a Journey (Russian and East European Studies)…
"Vladimir Sollogub's witty travelogue will be a pleasant surprise to anyone who believes that the debate between Westernizers and Slavophilestook place exclusively in verbose essays and mind-boggling treatises. Punctuated with pithy dialogues and sobering observations on the scenery of the Russian provinces, The Tarantassengages with the vexed question of Russia's historical path in a unique and refreshing way. Thanks to Michael Katz' masterful translation, this forgotten classic of Russian literature is now available to an English-reading audience." –Otto Boele, Leiden University
University of Pittsburgh Press, 9780822946465, 192pp.
Publication Date: November 10, 2020
About the Author
Vladimir Sollogub was a liberal Russian nobleman and writer and contemporary to Alexander Pushkin and Ivan Turgenev. Tarantas is his most-well know work.

Michael R. Katz is CV Starr Professor Emeritus at Middlebury College. He is the author of two monographs and is a renowned translator of Russian literature, who has published English versions of Tolstoy, Dostoevsky, Turgenev, and Chekhov.