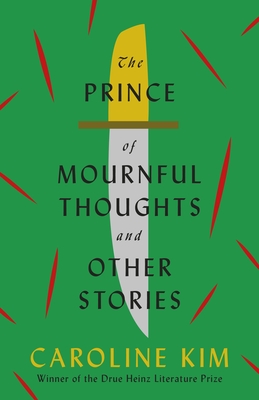 The Prince of Mournful Thoughts and Other Stories (Pitt Drue Heinz Lit Prize)
Hardcover

* Individual store prices may vary.
Other Editions of This Title:
Paperback (9/28/2021)
Description
Winner of the 2020 Drue Heinz Literature Prize
Longlisted for the 2021 Pen America Robert W. Bingham Prize for Debut Short Story Collection Prize 
Longlisted for the 2020 Story Prize 
Exploring what it means to be human through the Korean diaspora, Caroline Kim's stories feature many voices. From a teenage girl in 1980's America, to a boy growing up in the middle of the Korean War, to an immigrant father struggling to be closer to his adult daughter, or to a suburban housewife whose equilibrium depends upon a therapy robot, each character must face their less-than-ideal circumstances and find a way to overcome them without losing themselves. Language often acts as a barrier as characters try, fail, and momentarily succeed in connecting with each other. With humor, insight, and curiosity, Kim's wide-ranging stories explore themes of culture, communication, travel, and family. Ultimately, what unites these characters across time and distance is their longing for human connection and a search for the place—or people—that will feel like home.
Praise For The Prince of Mournful Thoughts and Other Stories (Pitt Drue Heinz Lit Prize)…
"The Prince of Mournful Thoughts and Other Stories is an extraordinary collection, and the title story alone is an astonishing feat. . . . The collection takes us in stories across the Korean diaspora, from ancient Korea to the Korean War to Korean Americans living in America in the recent past, the present, and even the future. [Caroline Kim] has a devastating sense of dramatic timing, a keen ear for dialogue, and experiments constantly, with structure, minimalism, science fiction, historical fiction, returning always with insight, intelligence, and an expansive sense of their characters' humanity, which in turn points us to our own. These characters will live in my head a long time." —Alexander Chee, author of How to Write an Autobiographical Novel, The Queen of the Night, and Edinburgh
"Caroline Kim's captivating story collection gathers an entrancing variety of voices spread across time and place. These diverse viewpoints reveal cohesive threads that address clashes of culture, of generations, of relationships, of history, carrying us from 18th-century Korea to the Korean War and our own contemporary then future world, and strikingly reflects us all in riveting microcosms of story. Deeply moving and affecting, these stories and their heartfelt characters will linger long after the last page is turned." —​Eugenia Kim, author of The Kinship of Secrets and The Calligrapher's Daughter 
Caroline Kim's 
The Prince of Mournful Thoughts and Other Stories
 communes with the 
hanfulness
 of Korean heritage, an inherited sorrow that never resolves but transforms into new language. From the Korean-English rendering, its own work of translation, to the historical recollection as well as the futuristic therapy robots, Kim blends genre and form for daring conversions, as if a scientist who conducts experiments on the essential truths of humanity. —
E.J. Koh
"Caroline Kim's masterful short story collection captures myriad voices with nuance and insight." —
Foreword Reviews
"A rarity among first, second, or even tenth collections, Kim maintains enviously superb quality throughout the dozen stories, in which she varies geographies (Korea, California, France), time periods (18th century to the future), and multiple generations." —
Christian Science Monitor
"During Kim's search for books about Korea, she found few answers. Since then, there's been a burst of English novels and memoirs set in Korea, both written in English originally and translated from the Korean. The connections Kim sought seem to now be coming though, and she's added a selection of her own here." —
Asia Book Reviews
"Kim is a gifted writer of tremendous range—each story conjures a world unto itself." —
Pittsburgh Quarterly
"Caroline Kim's collection is a multifaceted chorus of voices from the Korean diaspora, spanning widely across genres and settings from the ancient world to a future yet to come." —
Chicago Review of Books
University of Pittsburgh Press, 9780822946489, 222pp.
Publication Date: October 6, 2020
About the Author
Caroline Kim was born in South Korea. She has an MFA in Poetry from the University of Michigan where she won a Hopwood Award and an MA in Fiction from the University of Texas at Austin where she was a James A. Michener Fellow. She was nominated by Jellyfish Review for the 2019 Best of the Net. She is currently a graduate student in counseling at St. Mary's College in Moraga, CA. Kim lives with her husband and three children.