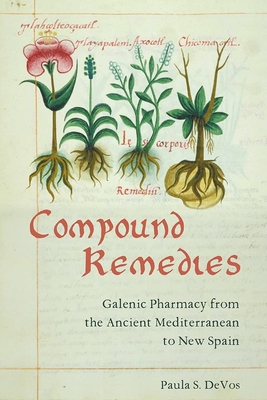 Compound Remedies
Galenic Pharmacy from the Ancient Mediterranean to New Spain
Hardcover

* Individual store prices may vary.
Description
Compound Remedies examines the equipment, books, and remedies of colonial Mexico City's Herrera pharmacy—natural substances with known healing powers that formed part of the basis for modern-day healing traditions and home remedies in Mexico. Paula S. De Vos traces the evolution of the Galenic pharmaceutical tradition from its foundations in ancient Greece to the physician-philosophers of medieval Islamic empires and the Latin West and eventually through the Spanish Empire to Mexico, offering a global history of the transmission of these materials, knowledges, and techniques. Her detailed inventory of the Herrera pharmacy reveals the many layers of this tradition and how it developed over centuries, providing new perspectives and insight into the development of Western science and medicine: its varied origins, its engagement with and inclusion of multiple knowledge traditions, the ways in which these traditions moved and circulated in relation to imperialism, and its long-term continuities and dramatic transformations. De Vos ultimately reveals the great significance of pharmacy, and of artisanal pursuits more generally, as a cornerstone of ancient, medieval, and early modern epistemologies and philosophies of nature.
 
Praise For Compound Remedies: Galenic Pharmacy from the Ancient Mediterranean to New Spain…
"This highly informative book takes the reader on a fascinating global journey—deeply detailed and researched—from the ancient pharmacy of Galenic medicine through its Eurasian and Central American history to natural remedies of today. Paula De Vos gives unparalleled insight into this longue durée history, as well as the important role played by pharmaceutical theory and practice in shaping attitudes about the human ability to transform nature."—Pamela H. Smith, Columbia University
 

"In this erudite and innovative study, De Vos demonstrates the remarkable resilience and flexibility of Galenic pharmacy. This remarkable global history demonstrates fundamental continuities in medical practice that connect the ancient Mediterranean and early modern America. De Vos not only rejects long-standing teleological narratives in the history of medicine, but also challenges us to rethink the way we conceptualize and divide space and time."—Marcy Norton, University of Pennsylvania
 
University of Pittsburgh Press, 9780822946496, 404pp.
Publication Date: December 22, 2020
About the Author
Paula S. De Vos is professor of history at San Diego State University and an editor of Science in the Spanish and Portuguese Empires, 1500-1800.