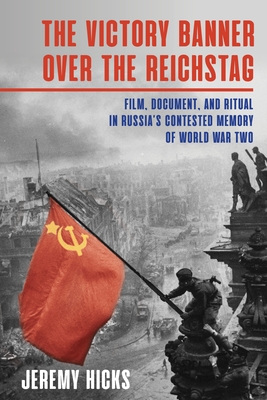 Victory Banner Over the Reichstag (Hardcover)
Film, Document and Ritual in Russia's Contested Memory of World War II (Russian and East European Studies)
University of Pittsburgh Press, 9780822946502, 340pp.
Publication Date: November 3, 2020
* Individual store prices may vary.
Description
In one of the most iconic images from World War II, a Russian soldier raises a red flag atop the ruins of the German Reichstag on April 30, 1945. Known as the Victory Banner, this piece of fabric has come to symbolize Russian triumph, glory, and patriotism. Facsimiles are used in public celebrations all over the country, and an exact replica is the centerpiece in the annual Victory Parade in Moscow's Red Square. The Victory Banner Over the Reichstag examines how and why this symbol was created, the changing media of its expression, and the contested evolution of its message. From association with Stalinism and communism to its acquisition of Russian nationalist meaning, Jeremy Hicks demonstrates how this symbol was used to construct a collective Russian memory of the war. He traces how the Soviets, and then Vladimir Putin, have used this image and the banner itself to build a remarkably powerful mythology of Russian greatness.
About the Author
Jeremy Hicks is professor of Russian culture and film at Queen Mary University of London. He is the author of First Films of the Holocaust, Dziga Vertov: Defining Documentary Film, and Mikhail Zoshchenko and the Poetics of Skaz.
Praise For Victory Banner Over the Reichstag: Film, Document and Ritual in Russia's Contested Memory of World War II (Russian and East European Studies)…
"Dynamically written and deploying a staggering range of sources, both visual and written, both published and unpublished, this absorbing and original study of the continuing, contested evolution of the cult of the Victory Banner raised over Berlin sheds vital new light on the way in which the Soviet Union of the war years has evolved into the Russia of today."
—Julian Graffy, professor emeritus, University College London
 

"There is nothing more central to Russian historical memory than World War II. By focusing on the powerful symbol of the Victory Banner, Jeremy Hicks adds new depth and nuance to our understanding of this crucial subject. Ranging from documentaries to video games, the book is full of insightful interpretation and fascinating discoveries."--Stephen Lovell, King's College London