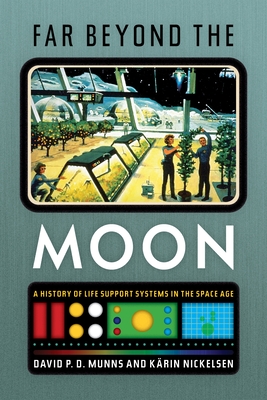 Far Beyond the Moon
A History of Life Support Systems in the Space Age (INTERSECTIONS: Histories of Environment)
Hardcover

* Individual store prices may vary.
Description
From the beginning of the space age, scientists and engineers have worked on systems to help humans survive for the astounding 28,500 days (78 years) needed to reach another planet. They've imagined and tried to create a little piece of Earth in a bubble travelling through space, inside of which people could live for decades, centuries, or even millennia. Far Beyond the Moon tells the dramatic story of engineering efforts by astronauts and scientists to create artificial habitats for humans in orbiting space stations, as well as on journeys to Mars and beyond. Along the way, David P. D. Munns and Kärin Nickelsen explore the often unglamorous but very real problem posed by long-term life support: How can we recycle biological wastes to create air, water, and even food in meticulously controlled artificial environments? Together, they draw attention to the unsung participants of the space program—the sanitary engineers, nutritionists, plant physiologists, bacteriologists, and algologists who created and tested artificial environments for space based on chemical technologies of life support—as well as the bioregenerative algae systems developed to reuse waste, water, and nutrients, so that we might cope with a space journey of not just a few days, but months, or more likely, years.
Praise For Far Beyond the Moon: A History of Life Support Systems in the Space Age (INTERSECTIONS: Histories of Environment)…
"This book tells an intriguing and salient story of the history of planning for humans living in space with zero provisioning and zero gravity, from the golden age of space flight in the 1960s to the tentative culmination of ecological life support in the project of Biosphere 2 in the 1990s. The narrative is entertaining and immensely educating. 
Far Beyond the Moon
 offers a witty and accessible story that holds all the answers to one of the most interesting questions about space flight: what to do with human waste in space." —Sabine Höhler, author of 
Spaceship Earth in the Environmental Age, 1960–1990
"This book is a powerful and much-needed antidote to 'macho' histories of the Space Age. In place of shining rockets and square-jawed astronauts, Munns and Nickelsen give us a masterful guide to the earthier aspects of humankind's attempts to live in space. Insightful, witty, and richly detailed, this study shows us that the problems of sanitation and waste management have been every bit as important to our conquest of space as rocket technology and moon walks." —Joshua Nall, author of News from Mars: Mass Media and the Forging of a New Astronomy, 1860–1910
"In telling the history of human space flight from the 'bottom up'—from a focus on human waste as opposed to human wits—Munns and Nickelson offer an insightful look at Soviet and US experiments in interstellar sustainability. They describe experiments with closed systems in refreshingly open ways that illustrate how this unglamorous research captured imaginations beyond space agencies, including science fiction authors and projects like Biosphere 2." —Lisa Messeri, author of Placing Outer Space: An Earthly Ethnography of Other Worlds
University of Pittsburgh Press, 9780822946540, 216pp.
Publication Date: May 11, 2021
About the Author
David P.D. Munns is associate professor of history at John Jay College, City University of New York.
 
Kärin Nickelsen is professor of the history of science at Ludwig-Maximilians-University in Munich, Germany