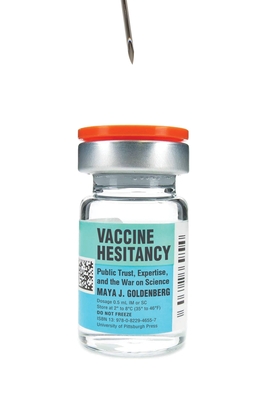 Vaccine Hesitancy
Public Trust, Expertise, and the War on Science (Science, Values, and the Public)
Hardcover

* Individual store prices may vary.
Other Editions of This Title:
Paperback (9/28/2021)
Description
The public has voiced concern over the adverse effects of vaccines from the moment Dr. Edward Jenner introduced the first smallpox vaccine in 1796. The controversy over childhood immunization intensified in 1998, when Dr. Andrew Wakefield linked the MMR vaccine to autism. Although Wakefield's findings were later discredited and retracted, and medical and scientific evidence suggests routine immunizations have significantly reduced life-threatening conditions like measles, whooping cough, and polio, vaccine refusal and vaccine-preventable outbreaks are on the rise. This book explores vaccine hesitancy and refusal among parents in the industrialized North. Although biomedical, public health, and popular science literature has focused on a scientifically ignorant public, the real problem, Maya J. Goldenberg argues, lies not in misunderstanding, but in mistrust. Public confidence in scientific institutions and government bodies has been shaken by fraud, research scandals, and misconduct. Her book reveals how vaccine studies sponsored by the pharmaceutical industry, compelling rhetorics from the anti-vaccine movement, and the spread of populist knowledge on social media have all contributed to a public mistrust of the scientific consensus. Importantly, it also emphasizes how historical and current discrimination in health care against marginalized communities continues to shape public perception of institutional trustworthiness. Goldenberg ultimately reframes vaccine hesitancy as a crisis of public trust rather than a war on science, arguing that having good scientific support of vaccine efficacy and safety is not enough. In a fraught communications landscape, Vaccine Hesitancy advocates for trust-building measures that focus on relationships, transparency, and justice.
Praise For Vaccine Hesitancy: Public Trust, Expertise, and the War on Science (Science, Values, and the Public)…
"
Vaccine Hesitancy
is a refreshing reconsideration of how we frame and might reframe public debate about vaccines and vaccination. Maya Goldenberg's argument—that at the foundation of today's vaccine controversies is a public mistrust of science, not a public misunderstanding of science—offers an important point of view in the larger contemporary debate about vaccine hesitancy. Her book is original and compelling, providing a unique perspective on a topic in urgent need of more critical scholarly attention." —
Elena Conis, author of Vaccine Nation: America's Changing Relationship with Immunization
"In 2019, The World Health Organization declared vaccine hesitancy one of the top ten global health threats. How should the phenomenon be understood? Vaccine Hesitancy is a timely response to this pressing issue. Lucidly written, rigorously argued, and comprehensive in scope, Maya Goldenberg's book demonstrates the value of philosophical analysis to contemporary debates. It deserves a wide audience and is essential reading for anyone engaged in public health and medicine. In light of COVID-19, this would include all of us." —Ross Upshur, University of Toronto
"Centering much of her discussion on the vital issue of trust—indeed, on a 'crisis of trust' in current social structures and medical practices, and on the fragile status of expertise, even of 'facts'—Maya Goldenberg argues convincingly for a 'dialogical' understanding of trust. This is a concept and a practice for which cooperation becomes a fundamental epistemic value, and epistemic responsibility is a guiding principle." —Lorraine Code, York University 
"With the steady increase in COVID-19 vaccine supplies, hesitancy and refusal to be vaccinated is becoming a problem for high vaccine coverage in many parts of the world. In her book
Vaccine Hesitancy: Public Trust, Expertise, and the War on Science
, philosopher Maya Goldenberg provides insights into vaccine hesitancy, its genesis, rationale, and potential solutions using a multi-disciplinary approach to ground the arguments." —
The Lancet
"Goldenberg's . . . remarkable views and sophisticated approach . . . emerge from the literature." —
HOPOS
University of Pittsburgh Press, 9780822946557, 264pp.
Publication Date: March 9, 2021
About the Author
Maya J. Goldenberg is associate professor of philosophy in the Department of Philosophy at the University of Guelph. Her research centers on the philosophy of science and medicine, with interest in the connection between science and values.
or
Not Currently Available for Direct Purchase