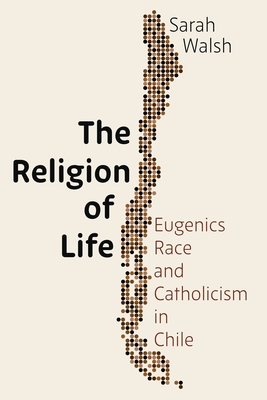 The Religion of Life
Eugenics, Race, and Catholicism in Chile (Pitt Latin American Series)
Hardcover

* Individual store prices may vary.
Description
The Religion of Life examines the interconnections and relationship between Catholicism and eugenics in early twentieth-century Chile. Specifically, it demonstrates that the popularity of eugenic science was not diminished by the influence of Catholicism there. In fact, both eugenics and Catholicism worked together to construct the concept of a unique Chilean race, la raza chilena. A major factor that facilitated this conceptual overlap was a generalized belief among historical actors that male and female gender roles were biologically determined and therefore essential to a functioning society. As the first English-language study of eugenics in Chile, The Religion of Life surveys a wide variety of different materials (periodicals, newspapers, medical theses, and monographs) produced by Catholic and secular intellectuals from the first half of the twentieth century. What emerges from this examination is not only a more complex rendering of the relationship between religion and science but also the development of White supremacist logics in a Latin American context.
Praise For The Religion of Life: Eugenics, Race, and Catholicism in Chile (Pitt Latin American Series)…
"The Religion of Life challenges us to rethink what we mean when we talk about 'race,' 'whiteness,' and 'eugenics,' showing us the interpretive flexibility of these categories, along with their various proxies. It greatly enriches our understanding of the distinctiveness and difference of racial thought and practice in Latin America and the Global South. Surprisingly, the racialized reproductive politics revealed here were nourished by both science and religion. In thus specifying local racial formations, this book will make antiracism far more targeted and effective." —Warwick Anderson, author of The Cultivation of Whiteness: Science, Health, and Racial Destiny in Australia
"In her highly original
The Religion of Life
, Sarah Walsh offers a nuanced and previously unknown history of how Catholicism, along with racial and gender ideologies, influenced the Chilean version of eugenics in the twentieth century. As Walsh's study vividly shows, secular and Catholic eugenicists agreed that a modernized patriarchy, based on traditional gender roles and carefully channeled sexual desire, would protect the nation's racial health and claim to Whiteness. Combining excavation of Catholic influence on eugenics, with careful analysis of ideologies of race and gender,
The Religion of Life
analyses how, for a broad range of Chileans from across the political and religious spectrum, eugenics interventions and ideology offered urgent solutions to perceived threats to the 'Chilean race.'"
—Patience Schell, University of Aberdeen
University of Pittsburgh Press, 9780822946649, 176pp.
Publication Date: April 5, 2022
About the Author
Sarah Walsh is the Hansen Lecturer in Global History at the University of Melbourne. She specializes in the history of the human sciences in Latin America with an emphasis on race and ethnicity.