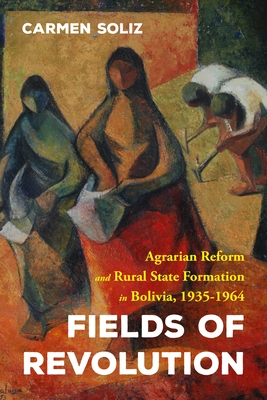 Fields of Revolution
Agrarian Reform and Rural State Formation in Bolivia, 1935-1964 (Pitt Latin American Series)
Hardcover

* Individual store prices may vary.
Description
Fields of Revolution examines the second largest case of peasant land redistribution in Latin America and agrarian reform—arguably the most important policy to arise out of Bolivia's 1952 revolution. Competing understandings of agrarian reform shaped ideas of property, productivity, welfare, and justice. Peasants embraced the nationalist slogan of "land for those who work it" and rehabilitated national union structures. Indigenous communities proclaimed instead "land to its original owners" and sought to link the ruling party discourse on nationalism with their own long-standing demands for restitution. Landowners, for their part, embraced the principle of "land for those who improve it" to protect at least portions of their former properties from expropriation. Carmen Soliz combines analysis of governmental policies and national discourse with everyday local actors' struggles and interactions with the state to draw out the deep connections between land and people as a material reality and as the object of political contention in the period surrounding the revolution.
Praise For Fields of Revolution: Agrarian Reform and Rural State Formation in Bolivia, 1935-1964 (Pitt Latin American Series)…
"Fields of Revolution is an outstanding work of historical scholarship. It will change our understanding not only of the agrarian reform itself but also of the wider character and legacy of the 1952 National Revolution in Bolivia. Based on diligent and discerning archival research, this study shows the importance of regional comparison as well as identifying key features of differentiation within the rural population. As a result, the book qualifies much of the established historiography, not least over the role of the MNR in rural affairs. Independent in outlook and fair-minded in appraisal, this is a study that should be read by everyone interested in modern Bolivia." —James Dunkerley, Queen Mary University of London
"A ground-breaking study! This book explores the fascinating complexities of Bolivia's historic 1953 Agrarian Reform. Solíz argues that land reform was not a project of state engineering, but sprang from the deep furrows of indigenous and peasant struggles for land rights over many decades. Working in virgin archives, she also examines the cultural terrain, in which peasant unions, comunarios, and ex-landowners argued over their rightful stakes in the post-revolutionary order. Deeply researched and beautifully written, Fields of Revolution is essential reading for Latin America scholars of revolution, agrarian movements, and peasant studies." —Brooke Larson, Stony Brook University, and author of Trials of Nation Making. Liberalism, Race, and Ethnicity in the Andes, 1810-1910
University of Pittsburgh Press, 9780822946656, 280pp.
Publication Date: April 20, 2021
About the Author
Carmen Soliz is assistant professor of Latin American history at the University of North Carolina at Charlotte and a Bolivian historian.