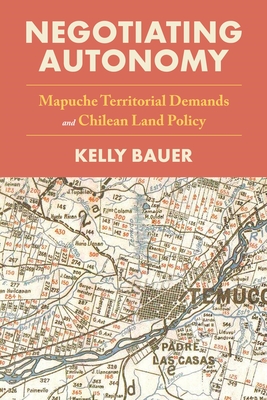 Negotiating Autonomy
Mapuche Territorial Demands and Chilean Land Policy (Pitt Latin American Series)
Hardcover

* Individual store prices may vary.
Description
The 1980s and '90s saw Latin American governments recognizing the property rights of Indigenous and Afro-descendent communities as part of a broader territorial policy shift. But the resulting reforms were not applied consistently, more often extending neoliberal governance  than recognizing Indigenous Peoples' rights. In Negotiating Autonomy, Kelly Bauer explores the inconsistencies by which the Chilean government transfers land in response to Mapuche territorial demands. Interviews with community and government leaders, statistical analysis of an original dataset of Mapuche mobilization and land transfers, and analysis of policy documents reveals that many assumptions about post-dictatorship Chilean politics as technocratic and depoliticized do not apply to Indigenous policy. Rather, state officials often work to preserve the hegemony of political and economic elites in the region, effectively protecting existing market interests over efforts to extend the neoliberal project to the governance of Mapuche territorial demands. In addition to complicating understandings of Chilean governance, these hidden patterns of policy implementation reveal the numerous ways these governance strategies threaten the recognition of Indigenous rights and create limited space for communities to negotiate autonomy.
Praise For Negotiating Autonomy: Mapuche Territorial Demands and Chilean Land Policy (Pitt Latin American Series)…
"Kelly Bauer's nuanced analysis in Negotiating Autonomy illustrates the gap between discourse and practice in Chile's Indigenous land policy. Attentive to the contradictions in how seemingly technocratic processes play out, she sheds light on behind-the-scenes practices and negotiations, showing how these sometimes work to the benefit of Mapuche communities, but more often serve to extend the reach of neoliberal logic and governance.  The book is a compelling contribution to the intersecting literatures on Indigenous politics, comparative politics, and social policy." —Patricia Richards, University of Georgia
University of Pittsburgh Press, 9780822946663, 190pp.
Publication Date: March 30, 2021
About the Author
Kelly Bauer is assistant professor of political science at Nebraska Wesleyan University, currently on leave with the Politics Department at Occidental College. Her research explores how Latin American states govern to recenter themselves as global trends destabilize state sovereignty; her recent work is on state responses to international Indigenous rights, irregular migration, and human security regimes. She also researches the best practices of teaching and learning, and has been recognized for her excellence in teaching.