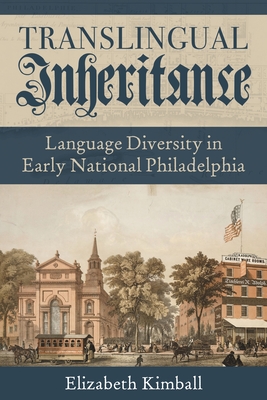 Translingual Inheritance
Language Diversity in Early National Philadelphia (Composition, Literacy, and Culture)
Hardcover

* Individual store prices may vary.
Description
Translingual Inheritance tells a new story of the early days of democracy in the United States, when English had not yet become the only dominant language. Drawing on translingual theory, which exposes how language use contrasts with the political constructions of named languages, Elizabeth Kimball argues that Philadelphians developed complex metalinguistic conceptions of what language is and how it mattered in their relations. In-depth chapters introduce the democratically active communities of Philadelphia between 1750 and 1830 and introduce the three most populous: Germans, Quakers (the Society of Friends), and African Americans. These communities had ways of knowing and using their own languages to create identities and serve the common good outside of English. They used these practices to articulate plans and pedagogies for schools, exercise their faith, and express the promise of the young democracy. Kimball draws on primary sources and archival texts that have been little seen or considered to show how citizens consciously took on the question of language and its place in building their young country and how such practice is at the root of what made democracy possible.
Praise For Translingual Inheritance: Language Diversity in Early National Philadelphia (Composition, Literacy, and Culture)…
"In her revisionist history of Philadelphia, Kimball uses a translingual approach to envision new interpretations of the city and of our understanding of the founding of the nation. She concludes in part that language diversity was vital to the foundation of the U.S. The book incorporates engaging historical narratives, strong archival materials, effective rhetorical analysis of specific communities and language uses, leading the reader to rethink what we know about this moment in our history and how this understanding can lead to new understandings of our current communities. This book makes a substantial contribution to rhetorical studies by providing a translingual framework for looking at other issues and time periods in U.S. history." —2022 CCCC Outstanding Book Award Committee
 

"Translingual Inheritance offers rich historical analysis of the plurality of language ideologies in Philadelphia's pre-colonial and colonial eras. Scholars will appreciate Kimball's innovative translingual approach to archival data and historiography that enables her to convincingly present illustrations of the linguistically-textured history of early Philadelphia. Kimball argues that the English language was never assumed to be the principal or primary language central to the founding of this nation. Rather, translingual practices were at the heart of the formation of the United States and explain the contested terrains of language practices at this particular transitional moment. Written with the grace of an imaginative teacher and engaging tour guide, scholars of translingualism will find compelling her fresh approach to rhetorical analysis, and scholars of rhetoric will appreciate this original history of early America. Translingual Inheritance is highly recommended for graduate students in rhetoric and writing and applied linguistics, undergraduates working in community-based archives, and historiographers of early America, particularly New England history." —Ellen Cushman, Northeastern University

"This is the book we've been waiting for. While we have an abundance of publications on translingual communication as a contemporary practice, we haven't understood its workings in the past. Archival documents are difficult to find and interpret. Kimball offers painstaking research, intelligent reading, and imaginative reconstruction of communities and communication in 18th century Philadelphia to demonstrate the translingual legacy of the US." —Suresh Canagarajah, Pennsylvania State University
University of Pittsburgh Press, 9780822946687, 224pp.
Publication Date: March 16, 2021
About the Author
Elizabeth Kimball is assistant professor of English at Drexel University. She is co-chair of the Philadelphia Writing Program Administrators, an affiliate of the Council of Writing Program Administrators. She is also a member of Rhetoric Society of America and the Conference on College Composition and Communication. Her work involves history, memory, language, and collaborative public life.