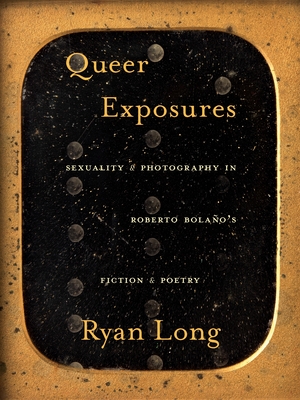 Queer Exposures
Sexuality and Photography in Roberto Bolaño's Fiction and Poetry (Pitt Illuminations)
Hardcover

* Individual store prices may vary.
Description
Roberto Bolaño (1953-2003) stands out among recent Latin American writers because of his unique combination of critical acclaim, popularity, and literary significance. Queer Exposures analyzes two central but understudied topics in Bolaño's fiction and poetry: sexuality and photography. Moving beyond a consideration of how his texts represent these topics, Ryan F. Long demonstrates that, when considered in tandem, they form the basis for a new innovative and critical approach. Emphasizing the processes of exposure associated with photography and sexuality, especially queer sexuality, provides readers and scholars with a versatile method for comprehending Bolaño's constellation of texts. With close readings of a broad range of texts, from poetry written just after his arrival in Spain in the late 1970s to his posthumously published novels, Queer Exposures concludes that an emphasis on sexuality and photography is essential for understanding how Bolaño's texts function in dialogue with one another to elucidate and critique the interrelations of writing, visual representation, and power.
Praise For Queer Exposures: Sexuality and Photography in Roberto Bolaño's Fiction and Poetry (Pitt Illuminations)…
"Rereading Bolaño's work through the lenses of photography and queerness, Ryan Long brings a new constellation into striking focus. Little-studied texts and characters emerge from the shadows cast by the central quest narratives to expose new patterns of meaning, and renew our understanding of the work's emancipatory force. Long's close reading is patient in its attention to detail, restless in its resistance to interpretive closure, bold in its conceptual reach: a precious combination." —Chris Andrews, writer and translator of Roberto Bolaño's work
"Focusing both on the topic of homosexual desire and the [homo]erotics of Roberto Bolaño's texts (the lingering, inconclusive quality of a literary discourse which tends to wait in the margins of the meaning, to always come back, re-think and re-write what is apparently done), this pioneering book succeeds in productively queering the master reading of a master." —Gabriele Bizzarri, Università degli Studi di Padova
"Long has produced the most original and compelling book-length study to date of Roberto Bolaño's endlessly fascinating work. Invoking the notion of queer exposure, understood as a laying bare, without revelation or capture, of the heteronormative fictions that underlie social and political control, he unlocks unexpected dimensions of Bolaño's writing, including the uncanniness of enclosed spaces from nation-states to photographs, the vulnerability of life and historical experience in late capitalism, and the temporal and spatial instability of images and texts." —Kate Jenckes, University of Michigan  
University of Pittsburgh Press, 9780822946694, 288pp.
Publication Date: March 23, 2021
About the Author
Ryan F. Long is associate professor of Spanish and comparative literature at the University of Maryland, College Park. His research focuses on the politics of literary and visual representation in Mexico and Latin America. Long is the author of Fictions of Totality: The Mexican Novel, 1968, and the National-Popular State.