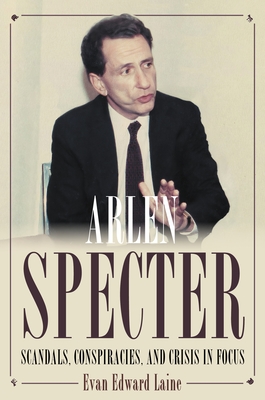 Arlen Specter
Scandals, Conspiracies, and Crisis in Focus
Hardcover

* Individual store prices may vary.
Description
From his early work as a lawyer on the Warren Commission investigating the assassination of President John F. Kennedy to his days as Philadelphia's district attorney to his thirty-year career as a United States Senator from Pennsylvania, Arlen Spector found himself consistently in the middle of major historical events. During his five terms as senator, Spector met with the likes of Palestine Liberation Organization leader Yasser Arafat and Cuban Prime Minister Fidel Castro and made significant contributions during the fallout of both the Iran-Contra scandal and the Clinton impeachment. His work had a profound influence on the configuration of the United States Supreme Court, the criminal justice system, LGBTQ rights, and stem cell research. Photographs from Specter's personal collection highlight many of these key moments, revealing the rich narrative not only of one man's political career, but how it helped shape a nation. While it will probably be long debated whether Specter's complex and controversial political legacy merits mainly praise or criticism, Arlen Specter sheds new light on the life of a man who fought to make a difference.
Praise For Arlen Specter: Scandals, Conspiracies, and Crisis in Focus…
"Those of us who knew Arlen Specter see his legacy come alive within these pages. Evan Laine's book has captured the essence and spirit of the man – his devotion to his constituents, his commitment to whatever task lay at hand, and his unique ability to listen and act upon what he had learned. In the years I worked with Arlen in the Philadelphia DA's office, I was impressed by how hard he worked and how much he cared. He was a practical, reasonable, and compassionate leader who always kept his eye on achieving a greater good. Mr. Laine's book reminds us of how much Arlen Specter accomplished, how fortunate we were to have him, and how much we miss him today." —Justice James J. Fitzgerald, III, (ret.) - Pennsylvania Supreme Court Justice
University of Pittsburgh Press, 9780822946762, 248pp.
Publication Date: April 6, 2021
About the Author
Evan Edward Laine is associate professor of history at Thomas Jefferson University–East Falls. He is the program director of the law and society major and faculty director for the Arlen Specter Center. Previously, Laine was an attorney specializing in civil trial law. He has written and lectured in the fields of conspiracy theory and civil law and is the author of Nixon and the Dragon Lady: Did Richard Nixon Conspire with Anna Chennault in 1968 to Destroy Peace in Vietnam?