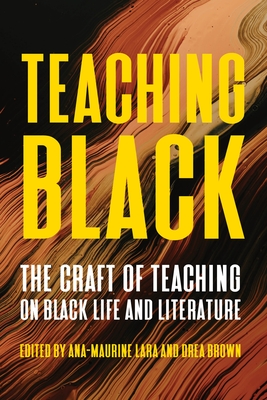 Teaching Black
The Craft of Teaching on Black Life and Literature (Composition, Literacy, and Culture)
Hardcover

* Individual store prices may vary.
Description
Teaching Black: The Craft of Teaching on Black Life and Literature presents the experiences and voices of Black creative writers who are also teachers. The authors in this collection engage poetry, fiction, experimental literature, playwriting, and literary criticism. They provide historical and theoretical interventions and practical advice for teachers and students of literature and craft. Contributors work in high schools, colleges, and community settings and draw from these rich contexts in their essays. This book is an invaluable tool for teachers, practitioners, change agents, and presses. Teaching Black is for any and all who are interested in incorporating Black literature and conversations on Black literary craft into their own work.
Praise For Teaching Black: The Craft of Teaching on Black Life and Literature (Composition, Literacy, and Culture)…
"For those who know the perils of teaching Black literature while living Black, the essays assembled in Teaching Black are the balm in Gilead. With honesty, humility, and humor, these authors put their bodies on the line to reflect upon what it means to privilege Black texts—indeed Black life—in an anti-Black world. Every teacher should read this book." —E. Patrick Johnson, Northwestern University
"Ana-Maurine Lara and drea brown's Teaching Black is an invitation to a collaborative community gathering on the page, a calling forth of lineage, engagement, and conversation with Black literature and culture. A space of transformative witness for the skill, care, and love that Black educators bring into the classroom and the space that they create for their students to listen and honor the multiplicities of experience, thought, song, and form of Black literature." —Ching-In Chen, University of Washington
University of Pittsburgh Press, 9780822946953, 264pp.
Publication Date: December 14, 2021
About the Author
Ana-Maurine Lara is a national award-winning novelist, poet, and scholar. She is the author of Erzulie's Skirt, Kohnjehr Woman, and When the Sun Once Again Sang to the People. Her academic books include Queer Freedom: Black Sovereignty and Streetwalking: LGBTQ Lives and Protest in the Dominican Republic. Lara's work focuses on questions of Black and Indigenous freedom.
drea brown is a poet-scholar and author of dear girl: a reckoning, winner of the Gold Line Press 2014 chapbook prize. brown's forthcoming book, Conjuring the Haint: The Haunting Poetics of Black Women is concerned with haunting and grief, and the impact of these states of being on Black women's lives and literature.