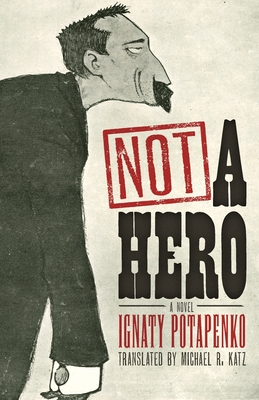 Not a Hero
A Novel (Russian and East European Studies)
Hardcover

* Individual store prices may vary.
Description
Between 1890 and 1893, Ignaty Potapenko published a number of works in which he presented the Russian intelligentsia with a new role model, the "mediocre, but common-sensical man," whose diligence and steady devotion to the improvement of society are depicted as being more productive than the reckless heroism of the regime's most outspoken, and sometimes violent, intellectual opponents. Not a Hero introduces the twenty-first-century reader to an important debate of the prerevolutionary period, a debate that is still relevant today: how to bring about social change within an oppressive and ossified political system without resorting to violence.
Praise For Not a Hero: A Novel (Russian and East European Studies)…
"Deftly introduced by Otto Boele and engagingly translated by Michael Katz, this edition of Ignaty Potapenko's novel Not a Hero brings non-Russian-speaking readers important perspectives on Russian culture in the age of Chekhov. Highly recommended." —William Mills Todd III, Harry Tuchman Levin Professor of Literature, emeritus, Harvard University
"Ignaty Potapenko liked to boast that provincial libraries in Russia lent out twice as many of his works as they did of his friend Chekhov. Not a Hero suggests why: Potapenko knew what it was like to live a precarious, even ramshackle middle-class life in St. Petersburg, chronicling the world of people like himself. He expressed their concerns and their ambitions, and accepted their limitations. Potapenko is invaluable for showing a modern reader what life in Russia really was like for the new emergent middle class, and he did so without condescension or falsity, weaving his characters into a well-planned, but plausible plot." —Donald Rayfield, professor emeritus of Russian and Georgian literature, Queen Mary University of London
University of Pittsburgh Press, 9780822946984, 206pp.
Publication Date: November 9, 2021
About the Author
Ignaty Potapenko (1856–1929) was a prolific writer known for his ability to capture the zeitgeist of late imperial Russia and address the burning issues of his age.
Michael R. Katz is C.V. Starr Professor Emeritus at Middlebury College. He is the author of two monographs and is a renowned translator of Russian literature, including English versions of works by Tolstoy, Dostoevsky, Turgenev, and Chekhov.