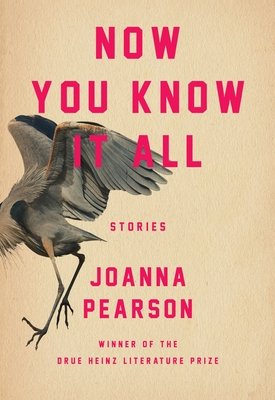 Now You Know It All (Pitt Drue Heinz Lit Prize)
Hardcover

* Individual store prices may vary.
Description
Poised on the precipice of mystery and longing, each character in Now You Know It All also hovers on the brink of discovery—and decision. Set in small-town North Carolina, or featuring eager Southerners venturing afar, these stories capture the crucial moment of irrevocable change. A young waitress accepts an offer from a beguiling stranger; a troubled boy attempts to unleash the villain from an internet hoax on his party guests; a smitten student finds more than she bargained for in her favorite teacher's attic; two adult sisters reconvene to uncover a family secret hidden in plain sight. With a sharp eye for rendering inner life, Joanna Pearson has a knack for creating both compassion and a looming sense of threat. Her stories peel back the layers of the narratives we tell ourselves in an attempt to understand the world, revealing that the ghosts haunting us are often the very shadows that we cast.
Praise For Now You Know It All (Pitt Drue Heinz Lit Prize)…
"Subtle and moving . . . Pearson's stories glide through their alarming moments with a precision hard to look away from. This will transfix and unsettle." —Publishers Weekly
 

"Joanna Pearson's Now You Know It All offers a splendid array of stories that reminded me page after page of old-fashioned stories when writers built their pieces brick by brick and built them to last. Pearson is not after the quick two-page, soulless anecdote glancing. [With a] Southern flavor, Now You Know It All is about the souls and hearts of the characters and how so very much of living got them to a point where nothing can be the same again." —Edward P. Jones, author of The Known World

"I love this book. Joanna Pearson's skills as a storyteller seem limitless. She writes about men, women, and children with confidence and believability, with such humor, flair, and even horror, I feel like she's the one who knows it all." —Daniel Wallace, author of Big Fish and The Kings and Queens of Roam

"Joanna Pearson's blazingly insightful stories veer in and out of the uncanny to imagine women at turning points—a small-town college student on her first internship, a mother recovering from postpartum psychosis, a waitress fleeing Epstein-like abuse—to speak to the dangers and unease of our time. More powerfully, they uncover the perils always lurking in the 'trick brain,' as one character puts it, the part of the self drawn to life's darkest places. A collection you won't soon forget." —Belle Boggs, author of The Gulf, Mattaponi Queen, and The Art of Waiting
University of Pittsburgh Press, 9780822946991, 224pp.
Publication Date: October 5, 2021
About the Author
Joanna Pearson is a lapsed poet who once wrote a young adult novel on a whim but nowadays mostly writes short fiction. Her first collection of stories, Every Human Love, was a finalist for the Shirley Jackson Awards, the Foreword Indies Awards, and the Janet Heidinger Prize for Fiction. Her stories have appeared in Best Small Fictions and Best of the Net, as well as other journals. She holds an MFA in poetry from the Johns Hopkins University Writing Seminars and an MD from the Johns Hopkins University School of Medicine. A native of western North Carolina, she now lives with her husband and two daughters near Chapel Hill, where she works as a psychiatrist.