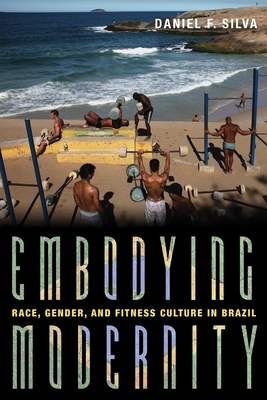 Embodying Modernity
Race, Gender, and Fitness Culture in Brazil (Pitt Illuminations)
Hardcover

* Individual store prices may vary.
Description
Embodying Modernity examines the current boom of fitness culture in Brazil in the context of the white patriarchal notions of race, gender, and sexuality through which fitness practice, commodities, and cultural products traffic. The book traces the imperial meanings and orders of power conveyed through "fit" bodies and their different configurations of muscularity, beauty, strength, and health within mainstream visual media and national and global public spheres. Drawing from a wide range of Brazilian visual media sources including fitness magazines, television programs, film, and social media, Daniel F. Silva theorizes concepts and renderings of modern corporality, its racialized and gendered underpinnings, and its complex relationship to white patriarchal power and capital. This study works to define the ubiquitous parameters of fitness culture and argues that its growth is part of a longer collective nationalist project of modernity tied to whiteness, capitalist ideals, and historical exceptionalism.
Praise For Embodying Modernity: Race, Gender, and Fitness Culture in Brazil (Pitt Illuminations)…
"Embodying Modernity is a highly innovative, provocative, and interdisciplinary study that shows how 'building' the body was central to the very construction of race, gender, sexuality, nation, and modernity in Brazil. With theoretical rigor and historical depth, Silva unveils how the bodies at the heart of Brazilian fitness culture are in fact rich historical, cultural, and political archives by which to read and understand Brazil's past and present." —Lamonte Aidoo, author of Slavery Unseen: Sex, Power, and Violence in Brazilian History
 

"In this groundbreaking study of visual imagery of fitness cultures, Silva demonstrates how the asymmetrical attribution of value to different bodies and body parts, as well as the distribution and reordering of fitness practices have become integral to hegemonic narratives of modernity and Brazilian exceptionalism. This is a major contribution not only to Brazilian studies, but also to the fields of gender and sexuality, critical race, and disability studies." —César Braga-Pinto, Northwestern University
 
University of Pittsburgh Press, 9780822947110, 280pp.
Publication Date: April 5, 2022
About the Author
Daniel F. Silva is associate professor of Luso-Hispanic Studies, director of Black Studies, and director of the Twilight Project at Middlebury College. He is the author of Anti-Empire: Decolonial Interventions in Lusophone Literatures and Subjectivity and theReproduction of Imperial Power: Empire's Individuals. He has edited and coedited multiple anthologies and is coeditor of the Anthem Press book series Anthem Studies in Race, Power, and Society.