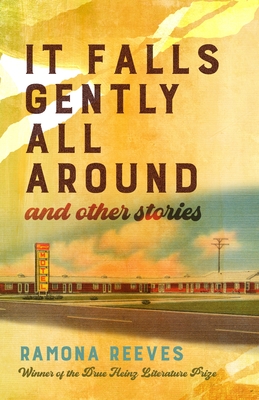 It Falls Gently All Around and Other Stories (Pitt Drue Heinz Lit Prize)
Hardcover

* Individual store prices may vary.
Description
Happiness and connection prove fickle in this debut collection of eleven linked stories introducing Babbie and Donnie. She is a thrice-divorced former call girl, and he is a sobriety-challenged trucker turned yogi. Along with their community of exes, in-laws, and coworkers, Babbie and Donnie share a longing to reforge their lives, a task easier said than done in Mobile, Alabama, which bears its own share of tainted history. Despite overwhelming challenges and the ever-looming specters of status, race, and class, the characters in It Falls Gently All Around and Other Stories strive for versions of the American dream through modern and often unconventional means. Told with humor and honesty, these stories remind us not only about the fallibility of being human and the resistance of some to change but also about finding redemption in unlikely places.
Praise For It Falls Gently All Around and Other Stories (Pitt Drue Heinz Lit Prize)…
"These big-hearted stories offer a kaleidoscopic vision of Mobile, Alabama, a place marked by a tangled history and no less tangled present. With insight, humor, and tenderness, Ramona Reeves renders lives as notable for their frailties and bruises as they are for their grace and grit. Like the work of Sherwood Anderson or Elizabeth Strout, these linked stories take us deep inside a community, even as they plumb the solitary, fiercely particular depths of inner life."
—Elizabeth Graver, Drue Heinz Literature Prize guest judge and author of The End of the Point
"Ramona Reeves's collection is a marvel, a round robin of people on the slide and people who were born there, the questionable nostalgia of the Old South and the absurdities of the New. A stunning intermeshing of class, race, history, and fate among people who undervalue their own lives in favor of other impossibilities. Reeves works the line between the mundane details of life and its moments of heady insight like an Olympic gymnast, and grounds it all in a fabulously wry comic sensibility. Pure magic." —Janet Fitch, author of White Oleander and Chimes of a Lost Cathedral
"These surprising, wonderfully funny stories glow with comic energy. The eleven pieces in It Falls Gently All Around serve as chapters in a deeply satisfying portrayal of characters facing the expiration dates on their old beliefs and their newly acquired convictions. Ramona Reeves has fully brought to life a cast of flawed, breaking people with bravery and resilience to spare. The book is a triumph of wise and compassionate storytelling." —Kevin McIlvoy, author of One Kind Favor
"There is a moment in Ramona Reeves's powerful debut story collection It Falls Gently All Around when a character believes 'He could make out ghosts swimming in the darkness, like another life he might have lived. . . .' It is one of several instances in the book when a story suddenly coalesces, and the reader is both surprised and moved, and this particular example speaks to a clear ambition of the author—to capture the elusive human moments that we all experience but for which we need an artist to genuinely see. This is a splendid book by an important new writer." —Robert Boswell, author of Mystery Ride, The Heyday of the Insensitive Bastards, and Tumbledown
University of Pittsburgh Press, 9780822947493, 208pp.
Publication Date: October 4, 2022
About the Author
Ramona Reeves grew up in Alabama. She has won the Nancy D. Hargrove Editors' Prize and been an A Room of Her Own fellow and a resident at the Kimmel Nelson Harding Center for the Arts. Her writing has appeared in the Southampton Review, New South, Bayou Magazine, Texas Highways, and others.