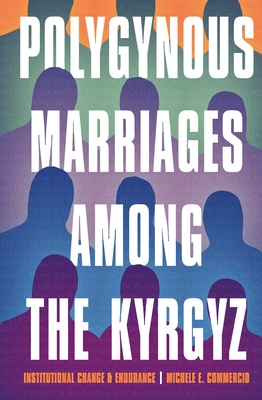 Polygynous Marriages among the Kyrgyz
Institutional Change and Endurance (Central Eurasia in Context)
Hardcover

* Individual store prices may vary.
Description
During Soviet rule, the state all but imposed atheism on the primarily Islamic people of Kyrgyzstan and limited the tradition of polygyny—a form of polygamy in which one man has multiple wives. Polygyny did continue under communism, though chiefly under concealment. In the decades since the fall of the Soviet Union, the practice has reemerged. Based on extensive fieldwork, Polygynous Marriages among the Kyrgyz argues that this marriage practice has become socially acceptable and widely dispersed not only because it is rooted in customary law and Islamic practice, but because it can also enable men and women to meet societal expectations and solve practical economic problems that resulted from the fall of the Soviet Union. Michele E. Commercio's analysis suggests the normalization of polygyny among the Kyrgyz in contemporary Kyrgyzstan is due both to institutional change in the form of altered governmental rules and expectations and to institutional endurance in the form of persistent hegemonic constructions of gender.
Praise For Polygynous Marriages among the Kyrgyz: Institutional Change and Endurance (Central Eurasia in Context)…
"The voices of women and men explaining their own motivations for polygynous marriage enliven Michele Commercio's analysis of a social trend in Kyrgyzstan. Quoting from interviews and focus group conversation, the author elaborates a historical institutionalist examination of marriage, with ideological and economic facets." —Marianne Kamp, Indiana University
"Polygynous Marriages among the Kyrgyz is a fascinating, carefully researched investigation of the normalization of polygyny in post-Soviet Kyrgyzstan. Michele Commercio shows us this much-maligned practice from the perspective of those who engage in it. Using a range of evidence, including interviews and focus groups, she helps us to understand why even educated and seemingly independent women would choose to enter—or remain in—polygynous marriages." —Adrienne Lynn Edgar, University of California, Santa Barbara
University of Pittsburgh Press, 9780822947530, 284pp.
Publication Date: December 20, 2022
About the Author
Michele E. Commercio is associate professor of political science at the University of Vermont. She is the author of Russian Minority Politics in Post-Soviet Latvia and Kyrgyzstan: The Transformative Power of Informal Networks.