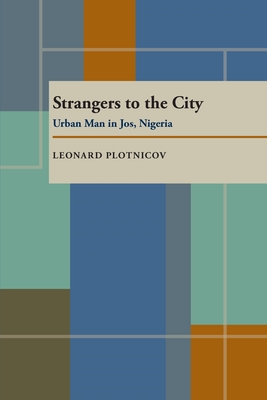 Strangers to the City (Paperback)
Urban Man in Jos, Nigeria
University of Pittsburgh Press, 9780822951353, 336pp.
Publication Date: February 23, 2010
* Individual store prices may vary.
Description
Leonard Plotnicov offers a fascinating study of the urbanization of tribal Africans. His study is based on extensive interviews with residents of Jos, Nigeria over a two-year period. The participants come from a variety of social and cultural backgrounds, and Plotnicov portrays the difficulties associated with assimilation into a Westernized society.
About the Author
Leonard Plotnicov is professor of  anthropology at the University of Pittsburgh.
Praise For Strangers to the City: Urban Man in Jos, Nigeria…
"Strangers to the City, by Leonard Plotnicov, has an evocative, almost romantic, title which immediately suggests readability. In this respect, we are not disappointed. . . . As a contribution to a growing picture of African urban life and as a story of colourful personalities deftly brought to life, this book has few parallels."
—Bulletin of the School of Oriental and African Studies
"To some extent, the approach is similar to that used by Oscar Lewis in his poverty studies, but Plotnicov also adds more information about Jos as well as analytical comment. . . . As a microsociological study this book gives a good view of what it is like to be a new urban man in Africa. As such, it is a very valuable component in our growing knowledge of city life on that continent."
—Ethnos
"The choice of Jos for the purpose of this study is important, because Jos is unique as a young industrial centre. . . . Dr. Plotnicov has done a great service to Nigeria by this study."
—Nigeria Magazine