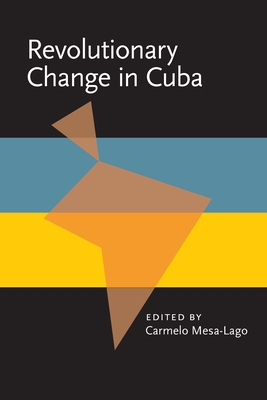 Revolutionary Change in Cuba (Paperback)
University of Pittsburgh Press, 9780822952442, 560pp.
Publication Date: January 15, 1972
* Individual store prices may vary.
Description
Cuba has been transformed more radically within one decade than almost any society in recent history. Yet the Cuban Revolution is poorly understood abroad because of its physical and political isolation, the controversies between adherents of the old and new regimes, and the murky skirmishes of the cold war.

This collection of essays is a comprehensive and authoritative study of almost all major aspects of socialist Cuba. It draws together the talents of the ablest group of Cuban specialists ever represented in a single volume.
 
About the Author
Carmelo Mesa-Lago is Distinguished Service Professor emeritus of economics and Latin American studies at the University of Pittsburgh.
Praise For Revolutionary Change in Cuba…
"Revolutionary Change in Cuba is one of the first works which actually attempts-and accomplishes-'a comprehensive, well-documented, up-to-date, and relatively objective study of the revolutionary changes that have taken place in Cuba from 1959 to 1970,' as the preface states. It is a highly valuable addition to the bibliography of the Cuban Revolution, no doubt due to become a standard reference source of the Revolution's first decade."
—Hispanic American Historical Review
 "The book, in general, must be considered the most comprehensive and authoritative coverage of the revolution."
—American Political Science Review
"Mesa-Lago and others trace in detail the evolution of post-revolutionary economic policies, emphasizing the centralization of decision-making, the stress on moral incentives, the use of budgetary finance, and the emergence of the USSR as Cuba's major economic partner."
—Social Forces
"Revolutionary Change in Cuba is a very timely, useful volume; it is also fascinating. . . .This is a fine performance in a collective effort directed at a single topic."
—Journal of Economic Issues