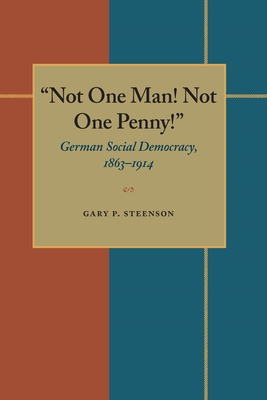 Not One Man Not One Penny (Paperback)
University of Pittsburgh Press, 9780822953296, 304pp.
Publication Date: July 15, 1981
* Individual store prices may vary.
Description
The German social democratic movement was the first mass, working-class party in world history, and a prototype for one of the major features of twentieth-century politics. Gary P. Steenson presents an introduction to the origins and development of German social democracy up to the First World War, by drawing upon protocols of the German Social Democratic Party, the party press, correspondence of leading figures, and scholarly research. Steenson also offers biographical sketches of prominent party officials, and translations of party programs and bylaws in the appendix.
About the Author
Gary P. Steenson is a historian, specializing in Marxism and Europe. He is the author of several books, including: Karl Kautsky, 1854-1938: Marxism in the Classical Years; and After Marx, Before Lenin: Marxism and Socialist Working-Class Parties in Europe, 1884-1914.
Praise For Not One Man Not One Penny…
"This is a fine piece of work. . . . There is nothing like it in English, even in German there is nothing of the same scope or that is so well written."
—Richard Hunt
or
Not Currently Available for Direct Purchase