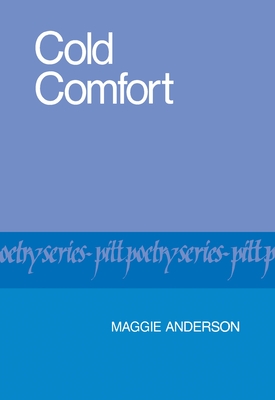 Cold Comfort (Pitt Poetry Series) (Paperback)
University of Pittsburgh Press, 9780822953845, 80pp.
Publication Date: October 15, 1986
* Individual store prices may vary.
Description
<I>Cold Comfort</I> is a book of poems written out of deep affection and concern for the world in a dangerous time. An urbane stylist, Anderson characteristically focuses on rural and small-town America, where the events of personal history intersect those of the larger world.

About the Author
Maggie Anderson is the author of several poetry collections including, Years That Answer, Windfall, and A Space Filled with Moving. She is the editor of Hill Daughter: New and Selected Poems of Louise McNeill, and co-editor of A Gathering of Poets, and Learning by Heart: Contemporary American Poetry about School. Anderson has received awards from the National Endowment for the Arts, the Ohio Arts Council, the Pennsylvania Council on the Arts, and the MacDowell Colony. She teaches creative writing at Kent State University where she directs the Wick Poetry Program and edits the Wick Poetry Series through the Kent State University Press.
Praise For Cold Comfort (Pitt Poetry Series)…
"We are struck by the generosity of a voice that manages to bridge the gap between a personal and a world view, a balance that reveals a narrator who is of the world yet not overwhelmed by it."
—Prairie Schooner

"She is primarily a poet of moral urgency—a political poet as we say these days—but she is never shrill, relying on the tensions inherent in the natural world rather than rhetoric."
—American Book Review
"The crux of Maggie Anderson's poems is the strong narrative line, one accompanied by an abundance of lore based in the folkways of the people. And her energy is that very essence of the old stories and poetry—present in the talk of ordinary people."
—Shelby Stephenson
"I like Maggie Anderson's strong sense of place and the unsentimental attention she pays to her West Virginia origins. These are rooted poems. Even the vegetables' dreams rely on a vivid internal logic. As 'corn . . . the enormous yellow dirigible of August . . . dreams fair weather' and 'dill . . . drifts seeds onto cucumbers it schemes to marry,' I am beguiled."
—Maxine Kumin
"The beautiful and scruffy where Maggie Anderson grew up should thank her for her fidelity to it, for she's made from that devotion a model of love useful there or anywhere. She's intellectually alert to the lures of comforts and wisdom and emotionally honest enough to want them all the same; she 'holds to her task / in the face of speculation,' as she writes of a grandmother photographed with her arms full of wash. She's funny ('Only responsible people keep cows') and deadly serious. She's one of the ways our poetry has chosen to remind us who we are, and how much choice we had in that, and how little."
—William Matthews
"Maggie Anderson celebrates the quotidian in her subtly eloquent poems. She write movingly of lives whose privacy and dignity she defends against the self-consciousness of art and the falsification of history. In these close-to-he-earth poems weather becomes density. Hers is a generous vision."
—Lisel Mueller
or
Not Currently Available for Direct Purchase