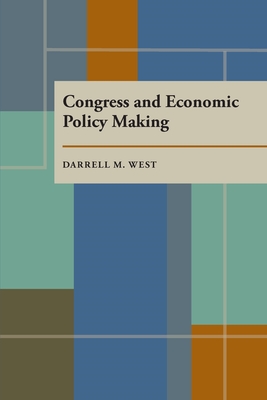 Congress and Economic Policy Making (Paperback)
University of Pittsburgh Press, 9780822953968, 220pp.
Publication Date: October 30, 1987
* Individual store prices may vary.
Description
Economic policymaking has perpetually been one of the central dilemmas facing Congress, leading to huge budget deficits and disagreements among legislators about spending priorities and tax policies.

This book examines congressional decision making on economic policy during the Reagan administration. It looks at legislative actions on Reaganomics, tax reform, and the politics of deficit reduction, and shows the importance of looking not just at the consequences of these decisions but also at the legislative processes that led to them.

Using an "activist-based" approach and previously unexamined data, Darrell West shows that district activists, often more conservative than the public at large, exerted a disproportionate and misleading effect on congressional voting. When this support eventually proved unstable, a more skeptical Congress began to eventually back away from the president's policies. This move had serious consequences for deficit reduction and policy initiation, and also influenced the final shape of the tax reform package adopted in 1986.
 
About the Author
Darrell M. West is vice president and director of Governance Studies at the Brookings Institution.
Praise For Congress and Economic Policy Making…
"A valuable addition to the literature. It strikes at the heart of the policy-making process-who gets what, when, and why. . . . It is a volume that should be of interest to a wide variety of readers. It is timely, methodologically sound, well written, and contains extensive notes and a useful index."
—Policy Studies Review
"[West] has provided us with a readable, informative, and very useful recap of the numerous legislative battles fought over the adoption and continuation of Ronald Reagan's economic program. . .. Informed, engaging, and well-written."
—Social Science Quarterly
"West's book is a valuable and fascinating addition to our knowledge of congressional politics in the 1980s. . . . A 'must' for reading lists on advanced courses on Congress and presidential-congressional relations."
—Political Studies Association of the UK American Politics Group Newsletter
or
Not Currently Available for Direct Purchase