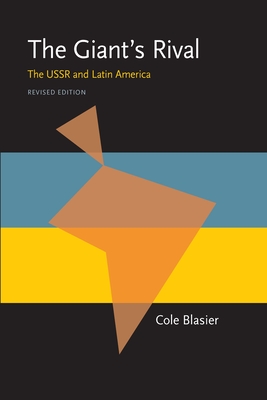 The Giant's Rival (Paperback)
The USSR and Latin America, Revised Edition (Pitt Latin American Series)
University of Pittsburgh Press, 9780822954002, 264pp.
Publication Date: February 15, 1988
* Individual store prices may vary.
Description
The Giant's Rival is an authoritative survey of Soviet relations with Latin America. Blasier provides a concise account of Soviet diplomatic, economic, and political-military involvement in the region, focusing on the post-1970 period.

This revised edition includes chapters analyzing developments since 1983. Blasier views the origins of the Sandinista revolution, and its relation to international Communism, and how the Nicaraguan government has grown dependent on Soviet oil, arms, and economic and political assistance.  He also describes the growing relations between the New Jewel Movement in Grenada and Moscow before it was toppled by the U.S. invasion. Blasier explains how U.S. policies have affected Soviet outcomes and makes proposals for protecting and advancing U.S. interests.

About the Author
Cole Blasier is professor emeritus of political science at the University of Pittsburgh and founder of its Center for Latin American Studies.
Praise For The Giant's Rival: The USSR and Latin America, Revised Edition (Pitt Latin American Series)…
"This is a book that Americans interested in Latin America and puzzled by the Reagan Administration's explanation of events there definitely should read."
—New York Times Book Review
"The Giant's Rival provides the most detailed record in the English language of the substance of Soviet policy in the entire Latin American region."
—Worldview