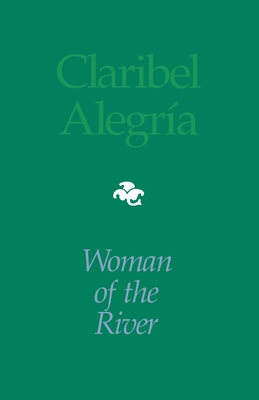 Woman Of The River
Bilingual edition
Paperback

* Individual store prices may vary.
Description
In Woman of the River one of the major voices in Latin American poetry confronts the political realities of contemporary Central America.  Many of the poems are political, direct, and condemnatory of the United States' presence in Latin America, and they are rich, human documents rooted in Alegria's knowledge of and love for her subjects. 

As Carolyn Forche has written of Alegria's previous selection of poems, Flowers from the Volcano: "These poems are testimonies to the value of a single human memory, political in the sense that there is no life apart from our common destiny.  They are poems of passionate witness and confrontation.  Responding to those who would state that politics has no place in poetry, she would add her voice to that of Neruda's: we do not wish to please them . . . ." She carries within her the ancient blood of the Pipiles and laces her language with mesitizo richness."
Praise For Woman Of The River: Bilingual edition…
"Permeated with tropical colors, smells, flowers, trees, volcanos, and people, these poems constitute a beautiful and moving collection, that will interest both undergraduate and undergraduate libraries."
--Choice
"The noted author of
Flowers from the Volcano
speaks of political realities with an impassioned objectivity in these poems about Central America, which confront the loss of lives as well as the slow extinction of spirit, of a culture's mythology, when war and political tyranny invade the heart of both private and public worlds."
—Publishers Weekly
"Alegria's vese is plainspoken, not at all given to elusive metaphor or dense language, as though her mission were too urgent for such roadblocks. Her tools are a keen visual memory (or as she says, 'anaconda eyes'), an ear for a good story, and a knack for building to a flourish. . . .
Woman of the River
shows that Claribel Alegría has the grace to take new risks and land on her feet."
—The Village Voice
"This bilingual collection directly addresses expatriate Alegria's political ideology and, by means of vibrant, effective images, elevates it to an aesthetic plane."
—Library Journal
"As in her previous book of poems,
Flowers from the Volcano
, [Alegria] has demonstrated in
Woman of the River
that she possesses an uncanny ability to explore and unveil the most demonic forces that drain the vitality of the collective unconscious and threaten to turn everything that is beautiful and sacred about life into a profane hallucination. . . . the most luminous voice of contemporary Central American poetry to resonate on the northern shores of this hemisphere."
—Poetry Flash
"One of the major voices in Latin American poetry presents a collection of poems that address the political realities of contemporary Central America, containing many works that are political, direct, and critical of the United States' presence in Latin America."
—Directions
"A native of Nicaragua, Alegria can bare her deepest emotions, expressing love on one page and lashing out at the injustices served to people on the next. She is a political poet in the sense that common humanity and dignity rise above all intimacies of human life."
—The Register-Guard
(Eugene, OR)
University of Pittsburgh Press, 9780822954095, 112pp.
Publication Date: December 15, 1988
About the Author
Claribel Alegria was born in Nicaragua in 1924, but she considers herself Salvadoran, having grown up in Santa Ana, El Salvador. She has published more than twenty books in Spanish. In 1978, her book of poems, Sobrevivo, won Cuba's Casa de las Americas Prize.