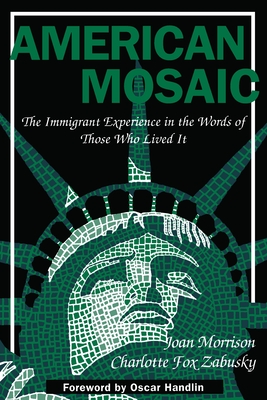 American Mosaic
The Immigrant Experience in the Words of Those Who Lived It
Paperback

* Individual store prices may vary.
Description
This extraordinary work of oral history captures the immense drama and full dimensions of the American immigrant experience.  The men and women who tell their stories include such famous names as Alistair Cooke, W. Michael Blumenthal, Edward Teller, and Lynn Redgrave.  But they share these pages with 136 other people whose stories are equally compelling: a Jewish former sweatshop worker and union organizer, a Scandanavian homesteader, a Polish coal miner, an anti-Nazi refugee, a Japanese war bride, a Mexican migrant worker, a Cuban exile, a South African interracial couple, a Soviet dissident, and many more.  They reveal the mingled joy and pain, hardship and triumph that were and are part of the glowing dream and fearful gamble of a new life in a new land.  They offer unique understanding not only of the makeup but of the meaning of America.
Praise For American Mosaic: The Immigrant Experience in the Words of Those Who Lived It…
"A triumph. . . . Consistently fascinating and consistently rich in significant details about the great and complex story of immigration to the United States and adaptation to American life."
—New York Times Book Review
"Powerful, dramatic, fascinating. . . . You have the feeling as you read across the extraordinary breadth of time, nationality and experience represented here that you are getting a grip on the real America: thrilling, depressing, frightening, gentle, crass, confusing, endearing, impersonal, vulgar, idealistic. In short, as diverse as the millions who have experienced and enriched it."
—Boston Globe
"A powerful collection of oral histories which captures the immense drama and the amazing expanse of the American immigrant experience. Their vivid stories of love, adventure, tragedy, and triumph depict the human side immigration and reveal the rich ethnic heritage that lies in the background of every American."
—Western Pennsylvania Genealogical Society Quarterly
University of Pittsburgh Press, 9780822954880, 480pp.
Publication Date: October 7, 1993
About the Author
Joan Morrison, a frequent contributor on the social sciences to the New York Times among other publications, teaches at the New School for Social Research in New York City.

Charlotte Fox Zabusky supervises an English as a Second Language program for refugees.