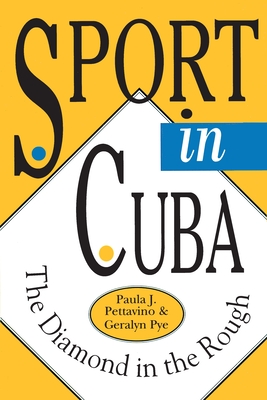 Sport in Cuba (Paperback)
The Diamond in the Rough (Pitt Latin American Series)
University of Pittsburgh Press, 9780822955122, 320pp.
Publication Date: September 15, 1994
* Individual store prices may vary.
Description
No aspect of Cuban life more clearly epitomizes their government's emphasis on image-building and individual participation than the system of physical culture and competitive athletics. Indeed the Cuban record in international athletics is the most universally recognized success of the communist revolution, as indicated by the Cuban arrival in the 1972 Olympics and the 1991 Pan-American Games, when Cuba beat the United States in the gold medal tally, dominating boxing, baseball, and winning the marathon. The fruits of the Cuban sports system were again in evidence at the Barcelona Olympics of 1992, despite the severe deprivation caused by the collapse of the island's socialist allies.

In spite of the obvious success and political importance of sport in Cuba, very little has been written on the subject. Sport in Cuba closes this gap. In the first major study on the Cuban system of sports and physical culture, Paula J. Pettvino and Geralyn Pye analyze how sports was given such a high priority in Cuba, how the country became a world power by the mid-1970s, and the impact of sports on Cuban society. Moving from the early days when the government's approach to sports was loosely defined, through the construction of a complex system of physical culture, to the current years of uncertainty, Sport in Cuba utilizes both archival sources and personal interviews. It will be of interest to Latin Americanists and students of sports.
About the Author
Paula J. Pettavino is adjunct professor of political science at the American University in Washington, DC, and at Marymount University in Arlington, VA.

Geralyn Pye is a lecturer in politics at Flinders University of South Australia.
Praise For Sport in Cuba: The Diamond in the Rough (Pitt Latin American Series)…
"Pettavino and Pye have made an important contribution to our understanding of socialist Cuba in a particularly insightful and original way. This will no doubt become the standard reference book on sports in Cuba for years to come."
--American Historical Review
"[A] pathbreaking contribution to Cuban studies and the growing literature on the sociopolitical history of sport in Latin America. Pettavino and Pye succeed in explaining how revolutionary officials find their 'diamond in the rough' . . . and what this means for the physical culture of Cuba."
--Canadian Journal of Latin American and Caribbean Studies
or
Not Currently Available for Direct Purchase