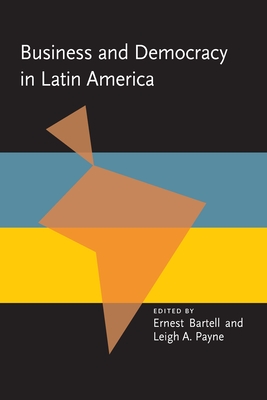 Business and Democracy in Latin America (Pitt Latin American Series)
Paperback

* Individual store prices may vary.
Description
These essays provide the first published research on Latin America's business sectors after  recent political transformations in  Argentina, Bolivia, Brazil, Mexico and Peru. They reveal the widely varied political and economic roles of business interests, particularly in regard to military regimes and the retreat of authoritarianism.
Praise For Business and Democracy in Latin America (Pitt Latin American Series)…
"Business has long been considered an enemy of democracy and a supporter of authoritarianism in Latin America. In this unusually well coordinated volume, the authors explore the new relationship between business and democracy during the contemporary period."
––Political Science Quarterly

"The contributors to Business and Democracy in Latin America look systematically at the same issues in Chile (Bartell), Bolivia (Catherine Conaghan), Peru (Francisco Durand), Mexico (Blanca Heredia), and Brazil (Payne). They address the subject of business associations and their relationships with authoritarian and democratic regimes, with each essay offering an interesting story as well as good analysis. It is a relief to find real people doing real things-instead of abstract 'actors' defending their abstract 'interests.'"
—Latin American Research Review

"Given the nature of politics in several of these countries, the 'democracy' in the title is somewhat overstated, but the need to look at the role of business is not. . . . In Latin America today, business is the political equivalent of a 500-pound gorilla. . . . For students and scholars with an interest in the prospects for deepening democracy in the region, this book is a compelling of that fact."
—American Political Science Review
University of Pittsburgh Press, 9780822955375, 312pp.
Publication Date: January 15, 1995
About the Author
Ernest Bartell is executive director of the Helen Kellog Institute for International Studies and professor of economics at the University of Notre Dame.

Leigh A. Payne is assistant professor in the department of international studies at the University of Wisconsin.