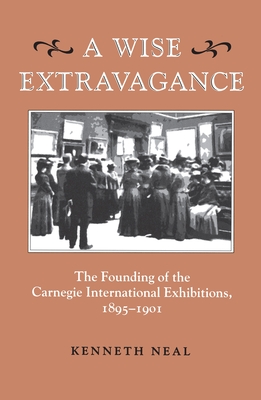 A Wise Extravagance
The Founding of the Carnegie International Exhibitions, 1895–1901
Paperback

* Individual store prices may vary.
Description
Andrew Carnegie, industrialist and a major American philanthropist, sought to bring world-class art and culture to Pittsburgh. This book looks at how the Carnegie International exhibit came into being in 1895, the early exhibitions, the art, artists, and the public reception to it.
Praise For A Wise Extravagance: The Founding of the Carnegie International Exhibitions, 1895–1901…
"Art historian Kenneth Neal's A Wise Extravagance chronicles the first six years of the enterprise's history. . . in a lively, spirited manner. Very well written and a fascinating account, [the book] relates the institution and the exhibition series to the social and intellectual context of their day, and to the ambitions, predilecitons, and personalities of the key players involved. Vivid depictions: the city of Pittsburgh, the angry artists, the miffy critics. Vivid the sense that even today so little has really changed. . . . Part of the pleasure . . . is the way in which each topic is brought so energetically to life—anecdotal, sparkling thread-togethers of the dusty records brought to life."
—New Art Examiner

"Not only is the material original and the book one that promises to be useful to scholars, but also the literary handling of the material is of an order far beyond what one usually finds-one can actually read this text with pleasure."
—Henry Adams, author of Thomas Hart Benton: An American Original
University of Pittsburgh Press, 9780822955849, 288pp.
Publication Date: May 15, 1996
About the Author
Kenneth Neal has written extensively on the American collections of the Carnegie Museum of Art and the Nelson-Atkins Museum of Art, and has contributed to numerous journals. He has taught courses at the University of Pittsburgh, Carnegie Mellon University, and Carlow College.