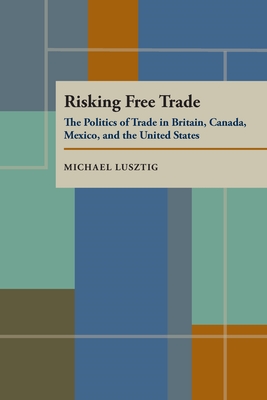 Risking Free Trade (Paperback)
The Politics of Trade in Britain, Canada, Mexico, and the United States
University of Pittsburgh Press, 9780822955894, 272pp.
Publication Date: November 14, 1996
* Individual store prices may vary.
Description
There are few issues as politically explosive as the liberalization of trade, as recent controversies in the United States, Canada, and Mexico have shown.  While loosening trade restrictions may make sense for a nation's economy as a whole, it typically alienates powerful vested interests.  Those interests can exact severe political costs for the government that enacts change.   So why accept the risk?

Michael Lusztig contructs a model to determine why and under what conditions governments will take the free trade gamble. Lusztig uses his model to explain shifts to free trade in four cases: Britain's repeal of the Corn Laws; the United States' enactment of the Reciprocal Trade Agreements Act (1934); Canada's decision to initiate continental free trade with the United States in 1985; and Mexico's decision to pursue the North American Free Trade Agreement (NAFTA) in 1990.
About the Author
Michael Lusztig, professor of political science at Southern Methodist University, is the author of The Limits of Protectionism.
Praise For Risking Free Trade: The Politics of Trade in Britain, Canada, Mexico, and the United States…
"This short and well-written book provides a fresh look at the making of trade policy, one that breaks away from easy determinisms (systemic, economic, institutional or ideological) but views politicians as 'entrepreneurs' constructing coalitions and institutions."
—Canadian Journal of Political Science
"Lusztig examines various models of the decision-making process and argues that support for liberalizing trade is a second-order objective, adopted by political actors as a by-product of the first-order objective of effecting a favorable political realignment of domestic interests. . . . Lusztig's model of political entrepreneurship is valuable . . . [and] of interest to readers seeking a conceptual framework for policymaking in the area of international trade."
—American Political Science Review

 
"A fresh and inventive argument. Its distinctiveness will allow [the book] to be seen and heard within a very crowded literature on the topic."
—G. John Ikenberry
or
Not Currently Available for Direct Purchase