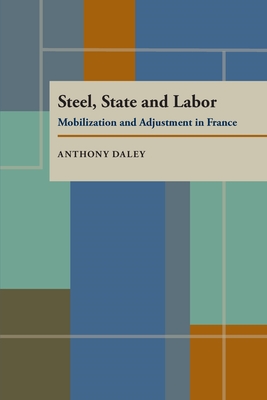 Steel, State, and Labor (Paperback)
Mobilization and Adjustment in France
University of Pittsburgh Press, 9780822956020, 312pp.
Publication Date: February 15, 1996
* Individual store prices may vary.
Description
The creation of wealth depends on the capacity of economic actors to adapt to market changes. Such adaptation, in turn, poses fundamental questions about the distribution of resources. Daley investigates the interaction among business, labor, and the state in France in the second half of the twentieth century and reveals how political dynamics refract market pressures. He explains how and why profitability came at the expense of union mobilization, unemployment, and management autonomy, vast amounts of state aid, and less national control over industrial decision making.
About the Author
Anthony Daley is Visiting Scholar at the Center for German and European Studies at Georgetown University. He has taught at the University of California, Berkeley, and Wesleyan University, Middletown, Connecticut.
Praise For Steel, State, and Labor: Mobilization and Adjustment in France…
"The combination of a strong and interventionist state tradition and a politicized though weak trade union tradition makes analysis of the lived experience of the French steel industry in the 1970s a fascinating one. Daley's thorough analysis looks at French industrial policy, the post-World War Two developments in the industry, organized labour's response to the changing circumstances, the French government's policy of 'national champions' and steel's place in this, the politics of industrial decline. . . . It is a welcome addition to the literature in the field."
—Labour History Review
"France has long fascinated political scientists as the site of Western Europe's most developed experiment in state-led industrial adjustment. Anthony Daley has written a superb case study of industrial adjustment, centering on the French steel industry and examining the interplay of state, business, and labor in the adjustment process. . . . Daley's book should be read by all those interested in the comparative politics and political economy of advanced societies."
—Annals of the American Academy of Political and Social Sciences
"A thorough, well documented, and intelligent discussion of a great , number of issues related to one of the most important social dilemmas of the modern era: the decline of industry in the 'industrial' democracies."
—Frank Baumgartner
or
Not Currently Available for Direct Purchase