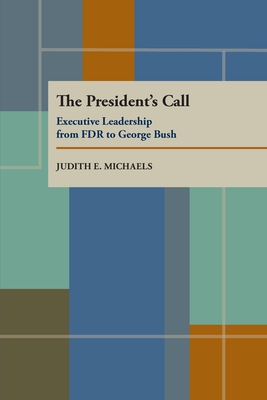 The President's Call (Paperback)
Executive Leadership from FDR to George Bush
University of Pittsburgh Press, 9780822956280, 360pp.
Publication Date: July 15, 1997
* Individual store prices may vary.
Description
Judith Michaels provides an in-depth examination of the Senate-confirmed presidential appointees of the Gorge H. W. Bush administration, and analyzes what these choices reveal about him, his administration, and the institution of political appointments itself. She compares this research to other administrations in the modern era. Particularly fascinating is how Bush's appointees compare with those of Ronald Reagan.
About the Author
Judith E. Michaels holds a PhD in urban affairs and public policy, taught at the Institute for Experiential Learning in Washington, D.C., and was a fellow at Syracuse University's Maxwell School of Citizenship and Public Affairs.
Praise For The President's Call: Executive Leadership from FDR to George Bush…
"Given the range of scandals that have emerged from the layers of Presidential Appointments with Senate ratification (PAS) since Watergate, it is very helpful to have a book that examines the area of the PAS, their performance, attitudes and relations with career civil servants. . . . Very informative and interesting read for students of American politics, and Presidential politics specialists in particular."
—Talking Politics
 "A veritable encyclopedia of information on presidential appointments. . . . A masterful work, one that certainly will be compared to the other top works in the political appointment literature."
—The Annals of the Academy of Political and Social Science
"Most people whose work focuses on executive politics, especially personnel politics, in the US, will find much material they can use in their own work. . . . Specialists in particular will want to draw on Michaels's findings as they go about the work of designing new studies and refining knowledge about executive leadership in the United States."
—Governance