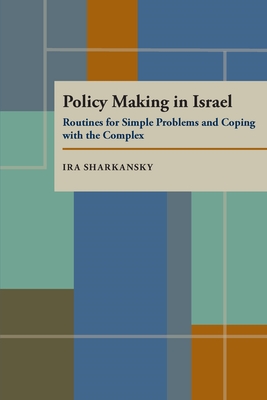 Policy Making in Israel (Paperback)
Routines for Simple Problems and Coping with the Complex
University of Pittsburgh Press, 9780822956334, 216pp.
Publication Date: August 29, 1997
* Individual store prices may vary.
Description
All governments face problems and are judged by their ability to solve them and the policies they develop in doing so.  Compared with other Western democracies, Israel has faced a devastating number of problems of unusual severity in a relatively short time: war, terrorism, heavy immigration, unsettled boundaries, economic stresses, internal disputes about ethnicity and religion, and the lingering scars of the Holocaust and other persecutions.  Sharkansky's analysis of the Israeli government's routines and methods for coping with such an array of difficulties, from simple to complex to intractable, offers general insights into how governments make policy in a democracy.
About the Author
Ira Sharkansky is professor of political science at the Hebrew University of Jerusalem.
Praise For Policy Making in Israel: Routines for Simple Problems and Coping with the Complex…
"Ira Sharkansky, a political scientist who is well known on at least two continents for his books on the process of policy-making, offers a formula for deconstructing issues into their most basic components. . . . This book is an insightful as it is entertaining. It serves as an ideal introduction to Israel's central policy debates and, most important, to the fiery rhetoric which typically accompanies these clashes."
—International Journal of Middle East Studies
"Lively, well written, and well structured, the book is a pleasure to read and a stimulating and thought provoking work by a veteran scholar of the Israeli polity. . . . It is a comprehensive analysis of policy making in Israel. At the same time, its concepts are applicable far beyond: to every country with stubborn, long-standing conflicts."
—Middle East Journal
"This book is written in the style of an essay and is easily accessible to lay readers, including undergraduate students and others not familiar with either Israel or the field of policy analysis. . . . Excellent book."
—Shofar: An Interdisciplinary Journal of Jewish Studies
or
Not Currently Available for Direct Purchase