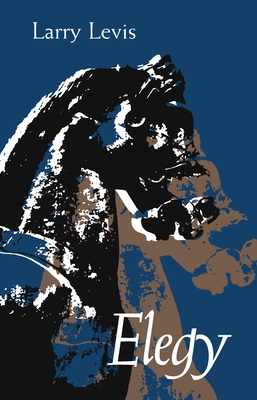 Elegy (Pitt Poetry Series)
Paperback

* Individual store prices may vary.
Description
A few days before his death in 1996, Larry Levis mentioned to his friend and former instructor Philip Levine that he had "an all-but-completed manuscript" of poems. Levine had years earlier recognized Levis as "the most gifted and determined young poet I have ever had the good fortune to have in one of my classes"; after Levis's death, Levine edited the poems Levis had left behind. What emerged is this haunting collection, Elegy.

The poems were written in the six years following publication of his previous book, The Widening Spell of the Leaves, and continue and extend the jazz improvisations on themes that gave those poems their resonance. There are poems of sudden stops and threats from the wild: an opossum halts traffic and snaps at pedestrians in posh west Los Angeles; a migrant worker falls victim to the bites of two beautiful black widow spiders; horses starve during a Russian famine; a thief, sitting in the rigging of Columbus's ship, contemplates his work in the New World. The collection culminates in the elegies written to a world in which culture fragments; in which the beasts of burden—the horses, the migrant workers—are worked toward death; a world in which "Love's an immigrant, it shows itself in its work. / It works for almost nothing"; a world in which "you were no longer permitted to know, / Or to decide for yourself, / Whether there was an angel inside you, or whether there wasn't."

Elegy, as Levine says, was "written by one of our essential poets at the very height of his powers. His early death is a staggering loss for our poetry, but what he left is a major achievement that will enrich our lives."
Praise For Elegy (Pitt Poetry Series)…
"
Elegy
. . . often reveals the harsh nature of poetry as our age has insisted on it. These new poems carry Levis's speculative impulse far into the mind's shadows. . . . The poems of Elegy are gracefully conversational. Levis trusts in the pleasures of language, the pleasures of thought. His sentences unravel slowly, twisting and rippling, gathering in force and definition. His poems have always been filled with a rugged grandeur, the inspired gestural sprawl of a Whitman-gone-west.
Elegy
reflects his desire for a conversation with the world at large, and many of Levis's recent poems turn to the natural world as an imperfect but necessary mirror. . . . Remarkably Levis manages to wear his wisdom like a shrug, not like a prophet's mantle. . . . He believes in the simple dignity of human beings, and what we discover in these poems is Levis's hope in a desperate tenderness that might rescue us from our notions of oblivion. . . .
Elegy
stands as the culmination of Larry Levis's poetic achievement. . . . One can only hope that . . . Levis's remarkable poems will continue to live far into our literature."
--New York Times Book Review
"His work is monumental, spiritual, and some of the most enduring in contemporary poetry. These final poems are long, elegiac, and tragically alive. They show how his work was moving toward a great dance of the self finally coming to terms with the world."
--Bloomsbury Review
"Everyone who cares about contemporary American poetry should read Levis's posthumous Elegy; despite quite a bit of dead-pan humor and a recurring air of self-mockery, it's a heartbreaking book."
—Antioch Review
"Levis's lines are never burnished in the way that [Charles] Wright's can be, but Levis possessed the same near-perfect pitch, and had reached a similar level of free-verse mastery. ...the poems are never less than brilliant."
—Kenyon Review
"The poems in Larry Levis' posthumous book, Elegy, are haunted, a weave of lyrical 'riffs,' plangent scenes, and demotic narratives. Levis hones his discursive style masterfully here, turning frequently to objective correlatives in order to complement the poems' intense emotions. . . . Marrying realism and transcendence, Elegy celebrates the vulnerability of downtrodden orchard workers, victims of war and crime, tired professors, abandoned lovers, dying race horses. These are strong, romantic poems, essential poems at the end of a dehumanizing century, which remind us despite our forgetfulness that without such elegies to wake us to what we love and grieve, we are doomed to an 'Oblivion who would be nothing' with us. These poems spread their 'wise chill over (our) flesh.'"
—Harvard Review
"There isn't a false word anywhere. It is poetry that you read silently to yourself, then read it over again and get up out of your chair to take over and read aloud to someone else so you can share the thoughts and the music and hear the sounds of the words out loud. Elegies—laments for the dead—form a theme for the collection: soft remembrances gently unfolding, torrents of words, piling on top of each other to anxiously explain a lost moment, or sharp, short lines that flash on violent death. Time and again, the words ring out, echo back on each other, repeat a phrase or image so that each poem stands alone but is also part of a whole."
—The Fresno Bee
"A landmark work written by one of America's finest poets. The imagery and mastery of tonal discipline, the way the poems feed off each other, and even the music of the line delicately posited with jazz improvisation, all make this book an important work to have close at hand."
—Richmond Times-Dispatch
University of Pittsburgh Press, 9780822956488, 96pp.
Publication Date: October 30, 1997
About the Author
Larry Levis was born in Fresno, California, in 1946. His first book of poems, Wrecking Crew, won the United States Award from the International Poetry Forum, and was published in the Pitt Poetry Series in 1972. His second book, The Afterlife, won the Lamont Award from the American Academy of Poets in 1976. In 1981, The Dollmaker's Ghost was a winner of the Open Competition of the National Poetry Series. Among his other awards were three fellowships in poetry from the National Endowment for the Arts, a Fulbright Fellowship, and a Guggenheim Fellowship. Larry Levis died in 1996.