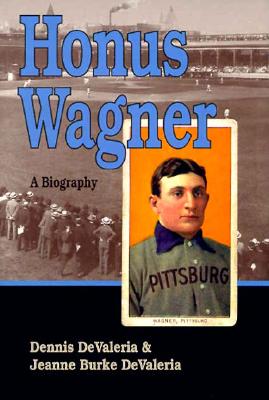 Honus Wagner (Paperback)
A Biography
University of Pittsburgh Press, 9780822956655, 352pp.
Publication Date: March 19, 1998
* Individual store prices may vary.
Description
With the coming of the twentieth century, America was thinking on a grand scale. Barriers of communication and transportation were being overcome and giants such as Andrew Carnegie, John D. Rockefeller, and William Randolph Hearst walked the land. The nation's game was baseball, and its giant was Honus Wagner. In 1996, a baseball card depicting Honus Wagner sold for $640,500 - the largest sum ever paid at auction for a sports artifact. What could possibly make that piece of cardboard, approximately one-and-a-half by two-and-a-half inches, worth more than half a million dollars? The DeValerias tell the unique story behind this now-famous baseball card and the man depicted on it. In doing so, they accurately present the local, regional, and national context so readers gain a thorough understanding of Wagner's times.Wagner's gradual emergence from the pack into stardom and popularity is described here in rich detail, but the book also reveals much of Wagner's family and personal life - his minor leauge career, his values, his failed business ventures during the Depression, and his later years. Neither the "rowdy-ball" ruffian nor the teetotal saint constructed of legend, Wagner is presented here in a complete portrait - one that offers a vivid impression of the era when baseball was America's game and the nation was evolving into the world's industrial leader.
About the Author
Dennis and Jeanne DeValeria are writers and historians who live and work in Pittsburgh. They are widely recognized as the foremost experts on Honus Wagner's life and career. Their presentation on Wagner received the annual Baseball Weekly Award at the 1995 national convention of the Society for American Baseball Research.
Praise For Honus Wagner: A Biography…
"A detailed, exhaustively researched account of Wagner's life. . . . A must for all baseball collections." —Booklist
"A thoroughly researched, engaging, and long overdue biography of simply the best all-around baseball player in the game's history." —Philadelphia Inquirer
"Dennis and Jeanne DeValeria have written a biography of the great Pittsburgh shortstop . . . that is as solid and workman-like as one would hope . . . peppered with Wagner's trademark stories." —Men's Journal
"Dennis and Jeanne DeValeria pay overdue homage to the Pittsburgh Pirates' Flying Dutchman, perhaps the premier shortstop in baseball history. . . . [offering] a painstaking, rewarding life of this diamond immortal."—Toronto Globe and Mail