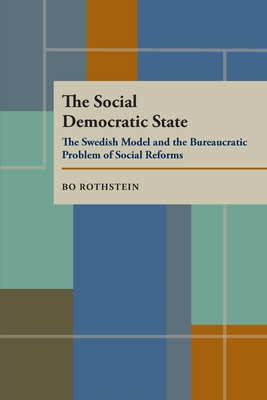 The Social Democratic State (Paperback)
Swedish Model And The Bureaucratic Problem
University of Pittsburgh Press, 9780822956747, 240pp.
Publication Date: February 27, 1998
* Individual store prices may vary.
Description
The Swedish Social Democratic Party, the SAP, is the most successful social democratic party in the world.  It has led the government for most of the last six decades, participating either alone or as the dominant force in coalition government.  The SAP has also worked closely with trade unions that have organized nearly 85 percent of the labor force, the highest rate among the advanced industrial democracies.  Rarely has a political party been so dominant or so closely linked to labor movement.  Yet Sweden remains very much a capitolist society with economic and social power firmly in the hands of big capitol.

If one wants to know if politics, and most especially if reformist politics, matters - if, that is, political mobilization can change democratic capitolists societies - then Sweden under the Social Democrats is clearly one of the best empirical cases to study.

Bo Rothstein uses the Swedish experience to analyze the limits a social democratic government labors under and the possibilities it enjoys in using the state to implement large-scale social change.  He examines closely two SAP programs, one a success and the other a failure, that attempted to change social processes deeply embedded in capitolist society.  He ties the outcomes of these programs to the structure of the state and hypothesizes that the outcome depends, to a considerable extent, on how administrative apparatuses responsible for implementing each policy are organized.  Rothstein concludes that no matter how wisely a reformist policy is designed nor how strong the political party behind it, if the administrative arrangements are faulty, it will fail at the stage of implementation.

Rothstein convincingly demonstrates that the democratic capitolist countries of the world have important lessons to learn from the Swedish experience regarding the possibilities for political reform.  Political scientists and political reformers alike can learn much from Rothstein's deep knowledge of Swedish government and his innovative model for analyzing political reform in social democratic societies.
About the Author
Bo Rothstein is the August Röhss Professor in Political Science and codirector of the Quality of Government Institute at Göteborg University in Sweden.
Praise For The Social Democratic State: Swedish Model And The Bureaucratic Problem…
"[This] is required reading for Scandinavian scholars, comparativists interested in the politics of reform, and policy analysts. The leadership of Sweden's Social Democratic Party would be well advised to read the Rothstein volume for valuable advice on the institutional conditions for successful policy reform."
—American Political Science Review
"Bo Rothstein's engaging and significant book emphasizes the nature of the state as a central element in explaining the success or failure of social democratic parties. . . . An important addition to the literature surrounding the limits of social democracy and the conclusions raise substantial questions for radical parties outside Sweden."
—Political Studies
"Sheds new light on the much discussed area of Swedish labor market policy, as well as the lesser known sphere of educational policy; [Rothstein] demonstrates that the much-admired Swedish Social Democratic party was not uniformly successful in its reformist efforts. . . . Rothstein's analysis indicates the importance of grounding reforms in institutional changes as well as policy innovations."
—Political Science Quarterly
or
Not Currently Available for Direct Purchase