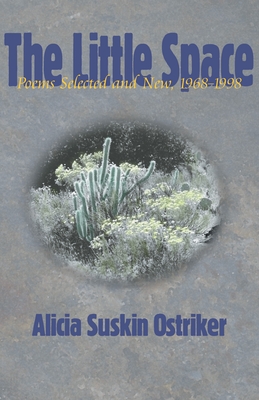 The Little Space (Paperback)
Poems Selected and New, 1968–1998 (Pitt Poetry Series)
University of Pittsburgh Press, 9780822956808, 240pp.
Publication Date: October 15, 1998
* Individual store prices may vary.
Description
In this selection of poems from thirty years of a distinguished writing career, we see the growth of a poet's mind, heart, and spirit as Ostriker struggles to love "this wounded / World that we cannot heal, that is our bride." Whether she probes the meaning of childhood, family, marriage, and motherhood, or art, history, politics, and God; whether she is celebrating sexuality or confronting mortality, the poet includes "whatever I can grasp of human experience within my art—the good and beautiful, the evil and chaotic. I tell my students that they must write what they are afraid to write; and I attempt to do so myself."

About the Author
Alicia Suskin Ostriker is one of America's premier visionary poets and critics.  She is the author of fourteen poetry collections, including The Book of Seventy; The Mother/Child Papers; No Heaven; the volcano sequence; as well as several books on the Bible.  She has received the Paterson Poetry Prize, the William Carlos Williams Award, the San Francisco State Poetry Center Award, the National Jewish Book Award, and has twice been a finalist for the National Book Award. Ostriker is Professor Emerita of English at Rutgers University and teaches in the low-residency MFA program of Drew University.

Praise For The Little Space: Poems Selected and New, 1968–1998 (Pitt Poetry Series)…
"Ostriker is among America's leading poet-critics . . . An academic with a comprehensive command of the male canon, Ostriker challenged it early in her career; and whatever her misgivings about being labeled an intellectual, she is justifiably stuck with that title. It's not so terrible to be an intellectual if you're also a visionary, and now that Ginsberg is gone, Ostriker is contemporary poetry's most Blakean figure. Like Blake, her vision of how things might be is grounded in anatomy of how things are. Ostriker is in love with a wounded world and wants us to heal it with the force of human imagination, compassion, and love. And she thinks we actually could. Two hundred pages seems, well, too little a space for a poet this large. . . . If the poet is afraid of loss, separation, betrayal, death, violence from without and within--and she is--she is fearless about her fear."
--Women's Review of Books
"The Little Space provides an excellent introduction to the work of American's most fiercely honest poet. Alicia Suskin Ostriker is a political poet in the best sense. She is not afraid to names names or state her opinions, but her poems could nver be seen as political essays in verse. . . . Ostriker puts the reader to work, and she blenches at nothing that experience offers up."
—The Progressive
"Openness and transparency mark this lively and moving collection by award-winning poet and feminist literary critic Ostriker. . . . Highly recommended."
—Library Journal
"Ostriker's emotional range is wide and intensely felt. She gives voice to the extreme edges."
—World Literature Today
or
Not Currently Available for Direct Purchase