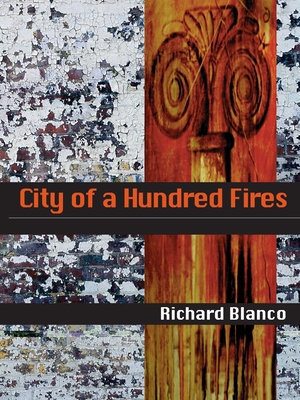 City of a Hundred Fires (Pitt Poetry Series) (Paperback)
University of Pittsburgh Press, 9780822956839, 88pp.
Publication Date: October 1, 1998
* Individual store prices may vary.
About the Author
Richard Blanco was selected as the 2013 inaugural poet by President Barack Obama. He is the author of two other poetry collections: Directions to The Beach of the Dead, winner of the PEN/Beyond Margins Award; and Looking for The Gulf Motel. Exploring themes of Latino identity and place, Blanco's poems have appeared in Best American Poetry 2000 and Best American Prose Poems and have been featured on NPR. He is a fellow of the Bread Loaf Writers Conference, recipient of two Florida Artist Fellowships, and has taught at Georgetown and American universities. A builder of cities and poems, Blanco is also a professional civil engineer.
Praise For City of a Hundred Fires (Pitt Poetry Series)…
"In a keenly impressive debut, Blanco, a Cuban raised in the United States, records his threefold burdens: learning and adapting to American culture, translating for family and friends, and maintaining his own roots. . . . Blanco is already a mature, seasoned writer, and his powers of description and determination to get every nuance correct are evident from the first poem. . . . Absolutely essential for all libraries."
—Library Journal
"Blanco is a fine young poet, and this poetry, the bread and wine of our language of exile, is pure delight, written with Lorca's El Duende's eyes and heart. May he continue to produce such a heavenly mix of rhythm and image—these poems are more than gems, they are the truth not only about the Cuban-American experience, but of our collective experience in the United States, a beautiful land of gypsies."
--Virgil Suarez
"Richard Blanco's City of a Hundred Fires lights up the American literary scene with a fresh new vigor and voice that takes its place in the front rank of poetry. This wonderful book will also draw readers from beyond the world of poetry, entrancing a wide audience with the music of its language, its beautiful evocation of love and loss and hope."
—Dan Wakefield
"City of a Hundred Fires is one of the most exciting first books of the decade—vibrant and diverse, infused with energy and formal dexterity, equally at ease in Spanish and English. As if that weren't enough, it feels like an important cultural document as well—a bicultural document, testimony to the dualities of identity central not only to Cuban but to all "hyphenated Americans"—exile and citizen, emigrant and immigrant, elegist and celebrant. Richard Blanco is a poet of remarkable talents—in any language."
—Campbell McGrath
"The poet's nostalgia for Cuba, a life seen through the lens of his parents' exile, here meets head on his own coming of age in a culturally and racially  diverse Miami. Full of vivid and specific detail, dotted with Spanish phrases, these poems arrest the reader much as the Ancient Mariner did, transfixing the listener."
—Maxine Kumin
"As one of the  newer voices in Cuban-American poetry, Blanco writes about the reality of an uprooted culture and how the poet binds the farthest regions of the world together through language. This book describes the price of exile and extends beyond the shores of America and the imagined shores of home."
—The Bloombury Review