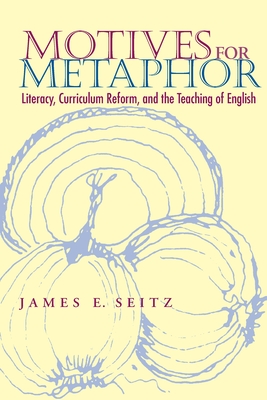 Motives For Metaphor (Paperback)
Literacy, Curriculum Reform, and the Teaching of English (Composition, Literacy, and Culture)
University of Pittsburgh Press, 9780822956921, 224pp.
Publication Date: April 1, 1999
* Individual store prices may vary.
Description
Despite urgent calls for reform, composition, literature, and creative writing, remain territorial, competitive fields. This book imagines ways in which the three English camps can reconnect. Seitz contends that the study of metaphor can advance curriculum reform precisely because of its unusual institutional position. By pronouncing equivalence in the very face of difference, metaphor performs an irrational discursive act that takes us to the nexus of textual, social, and ideological questions that have stirred such contentious debate in recent years over the function of English studies itself. As perhaps the most radical (yet also quotidian) means by which language negotiates difference, metaphor can help us to think about the politics of identification and the curricular movements such a politics has inspired.
About the Author
James E. Seitz taught and served as director of writing at Long Island University, Brooklyn, and is currently an assistant professor of English at the University of Pittsburgh, where he teaches graduate and undergraduate courses in composition, literature, and literacy education.
Praise For Motives For Metaphor: Literacy, Curriculum Reform, and the Teaching of English (Composition, Literacy, and Culture)…
"We are, I think, at the end of an era, not only in composition but in English studies generally. . . . Not since the early 1960s have people in English more keenly felt the need for fresh perspectives. And fresh perspectives, among other things, is what this book has to offer. Quite apart from its innovations in the theory of metaphor, Seitz's argument deserves a wide readership because of the new horizons it opens on teaching and research."
--Kurt Spellmeyer, Rutgers University
or
Not Currently Available for Direct Purchase