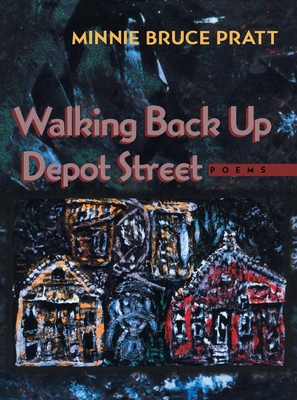 Walking Back Up Depot Street (Pitt Poetry Series) (Paperback)
University of Pittsburgh Press, 9780822956952, 88pp.
Publication Date: March 11, 1999
* Individual store prices may vary.
Description
Selected as ForeWord Magazine's  1999 Gay/Lesbian Book of the Year

In Pratt's fourth volume of poems, Walking Back Up Depot Street, we are led by powerful images into what is both a story of the segregated rural South and the story of a white woman named Beatrice who is leaving that home for the postindustrial North. Beatrice searches for the truth behind the public story-the official history-of the land of her childhood. She struggles to free herself from the lies she was taught while growing up-and she finds the other people who are also on this journey.   

In these dramatically multivocal narrative poems, we hear the words and rhythms of Bible Belt preachers, African-American blues and hillbilly gospel singers, and sharecropper country women and urban lesbians. We hear the testimony of freed slaves and white abolitionists speaking against Klan violence, fragments of speeches by union organizers and mill workers, and snatches of songs from those who marched on the road to Selma.  Beatrice walks back into the past and finds the history of resistance that she has never been taught; she listens to her fellow travelers as they all get ready to create the future.


About the Author
Minnie Bruce Pratt, a member of the graduate faculty at the Union Institute and University, is the author of four previous books of poetry, including Crime Against Nature, chosen as the Lamont Poetry Selection by the Academy of American Poets and a New York Times Notable Book of the Year, and Walking Back Up Depot Street, ForeWord Magazine's Gay/Lesbian Book of the Year.
Praise For Walking Back Up Depot Street (Pitt Poetry Series)…
"In Minnie Bruce Pratt's Walking Back Up Depot Street we meet one of the most perceptive characters to populate contemporary poetry, a woman named simply Beatrice who acts both as initiator and vehicle in these moving poems. ...This is an exceptional collection in every way: broad in subject, skilled in craft, diverse in its population and conscious of the tragic world. It could be overwhelming and general, but because readers see it through the eyes of Beatrice, readers come to care for her and her vision. In that sense, Pratt has created a Beatrice as momentous as Dante's. Her Beatrice has not turned away from, but embraced, as clear-eyed as she can, that harsh history which includes everyone. Because of that, readers will walk with her into hell—even in to our own roles in the story."
--ForeWord
"Minnie Bruce Pratt's poems engage the tangled skeins of race, sexuality, and class in a context of historical struggle, demonstrating that these tangles and knots cannot be thinned out and seperated. . . . I wish I could just quote the whole book to show you the passion and guts, the honesty and fear, the complexity and struggle, the historical and sexual permutations that gird these poems. so you can see for yourself. If you haven't already bought Walking Back Up Depot Street, I encourage you to do so."
--Lesbian Review of Books
or
Not Currently Available for Direct Purchase