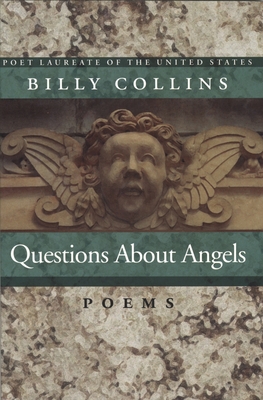 Questions About Angels (Pitt Poetry Series)
Paperback

* Individual store prices may vary.
Description
Billy Collins has emerged as the most beloved American poet since Robert Frost, garnering critical acclaim and broad popular appeal. Annie Proulx admits, "I have never before felt possessive about a poet, but I am fiercely glad that Billy Collins is ours."

This special, limited edition celebrates Billy Collins's years as U.S. Poet Laureate. Questions About Angels--one of the books that helped establish and secure his reputation and popularity during the 1990s--is remarkable for its wry, inquisitive voice and its sheer imaginative range. Edward Hirsch selected this classic book for the National Poetry Series, and each of Collins's poems-from his meditation on forgetfulness to his musings on the behavior of angels-is an exploration of imaginative possibilities. Whether reading him for the first time or the fiftieth, this collector's edition is a must-have for anyone interested in the poet the New York Times calls simply "the real thing."
Praise For Questions About Angels (Pitt Poetry Series)…
"Billy Collins can be downright funny; he's a parodist, a feigning trickster, an ironic, entertaining magician-as-hero. . . . Without question, Collins writes with verve, gumption and deep intelligence. Not many poets can infuse humor with such serious knowledge; not many can range so far  throughout  history and look so freshly into the future. Not many can please so thoroughly and still manage to chide, prod, urge, criticize, and teach."
--Poetry Magazine
 "One of the richest imaginations around . . . the affectionate humor with which Mr. Collins regards his surroundings amounts to a powerful kind of love, a reverence of the moment."
--Washington Post
 "Collins is jazzman and Buddhist, charmer and prince."
—Booklist
"Billy Collins's poetry is widely accessible. He writes in an original way about all manner of ordinary things and situations with both humor and a surprising contemplative twist."
—James H. Billington, Librarian of Congress announcing the appointment of Billy Collins as Poet Laureate
University of Pittsburgh Press, 9780822956983, 88pp.
Publication Date: January 7, 1999
About the Author
Billy Collins, named U.S. Poet Laureate in June 2001 and reappointed to the post in 2002, has published seven collections of poetry, including The Apple That Astonished Paris; Nine Horses; The Art of Drowning; Picnic, Lightning; Questions about Angels; and Sailing Alone Around the Room. A professor of English at Lehman College of the City University of New York, he lives in Somers, New York.