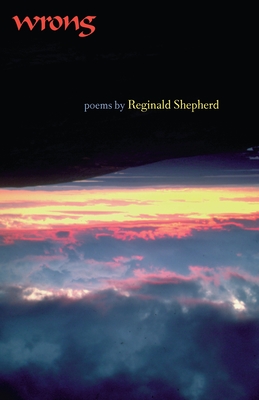 Wrong (Pitt Poetry Series) (Paperback)
University of Pittsburgh Press, 9780822957119, 112pp.
Publication Date: December 16, 1999
* Individual store prices may vary.
Description
The poems of Reginald Shepherd's third book move among, mix, and manufacture stories, seeking to redefine the meaning of mythology. From the ruined representatives of Greek divinity (broken statues and fragmented stories), and the dazzling extravagances of predecessors like Hart Crane and Wallace Stevens, to the fleeting promises of popular music and the laconic demigods of the contemporary gay subculture, they sketch maps of a world in which desire may find a restless home. But desire leads the maps astray and maps mislead desire. The poems poems both enact language's powers to create a world and enforce the world's insistence (material, social, sexual, racial, historical) that mind (and body) surrender to circumstance. The struggle between these two halves that will never make a whole produces new myths of occasion, "packing the rifts/with sleeplessness, filling the gaps with lack." In that space between promise and deprivation, Wrong builds its song.
About the Author
Reginald Shepherd (1963–2008) was the author of five previous books of poetry: Fata Morgana; Otherhood; Wrong; Angel, Interrupted; and Some Are Drowning. His work has been widely anthologized, and has appeared in four editions of The Best American Poetry and two Pushcart Prize anthologies.
Praise For Wrong (Pitt Poetry Series)…
These poems tread between subtle forms and raw power, never compromising but holding the two together in a difficult tension.  Wrong continues the work of Shepard's previous two books, the AWP prize -winning Some Are Drowning, and Angel, Interrupted , but it pushes the possibilities of a constricting and potentially poisonous history even further toward the margin of liberation.  These poems are never still, always ravished by the mouth of the moment, until they almost stand in a body that is somehow dying and surving at the same time.
--Indiana Review
"Shepherd's third book differs from the others in its close attention to the impulses toward aggression inherent in desire. . . . Shepherd struggles particularly with his search for illumination, and many of his poems are characterized by a photographer's or painter's eye for detail and visual pattern. Through what he seeks to see, Shepherd questions the 'wrongness' of what so captivates him as a writer."
--Callalo
or
Not Currently Available for Direct Purchase