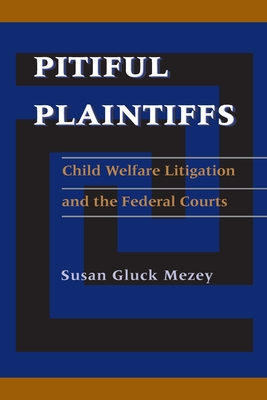 Pitiful Plaintiffs (Paperback)
Child Welfare Litigation and the Federal Courts
University of Pittsburgh Press, 9780822957171, 288pp.
Publication Date: March 15, 2000
Other Editions of This Title:
Hardcover (3/24/2000)
* Individual store prices may vary.
Description
Focusing on a class action lawsuit against the Illinois child welfare system (B. H. v. Johnson), Pitiful Plaintiffs examines the role of the federal courts in the child welfare policymaking process and the extent to which litigation can achieve the goal of reforming child welfare systems. 
Beginning in the 1970s, children's advocates asked the federal courts to intervene in the child welfare policymaking process. Their weapons were, for the most part, class action suits that sought widespread reform of child welfare systems. This book is about the tens of thousands of abused and neglected children in the United States who enlisted the help of the federal courts to compel state and local governments to fulfill their obligations to them. Based on a variety of sources, the core of the research consists of in-depth, open-ended interviews with individuals involved in the Illinois child welfare system, particularly those engaged in the litigation process, including attorneys, public officials, members of children's advocacy groups, and federal court judges. The interviews were supplemented with information from legal documents, government reports and publications, national and local news reports, and scholarly writings. Despite the proliferation of child welfare lawsuits and the increasingly important role of the federal judiciary in child welfare policymaking, structural reform litigation against child welfare systems has received scant scholarly attention from a political science or public policy perspective. Mezey's comprehensive study will be of interest to political scientists and public policy analysts, as well as anyone involved in social justice and child welfare.
About the Author
Susan Gluck Mezey, Ph.D., J.D., is a professor of political science at Loyola University, Chicago. She is former director of Loyola's Women's Studies Program and chair of the 1999 Forum on the Child. She is the author of Pitiful Plaintiffs: Child Welfare Litigation and the Federal Courts; No Longer Disabled: The Federal Courts and the Politics of Social Security Disability; In Pursuit of Equality: Women, Public Policy, and the Federal Courts; and Children in Court: Public Policymaking and Federal Court Decisions.
Praise For Pitiful Plaintiffs: Child Welfare Litigation and the Federal Courts…
"Susan Gluck Mezey has provided a thoroughly researched, useful addition to the literature on interest in group litigation and judicial decision making."
--Political Science Quarterly
or
Not Currently Available for Direct Purchase