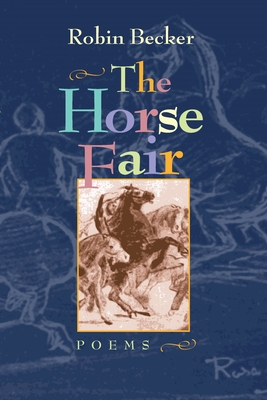 The Horse Fair (Pitt Poetry Series) (Paperback)
University of Pittsburgh Press, 9780822957201, 104pp.
Publication Date: March 9, 2000
* Individual store prices may vary.
Description
In The Horse Fair, Robin Becker asks questions about citizenship and participation in the marketplaces—of bodies, of ideas, of objects—in which we function. She investigates how individuals marginalized by gender, religion, and sexual preference negotiate public and private spheres while inventing sustainable communities. Beginning with the great nineteenth-century French painter Rosa Bonheur, Becker has produced a number of multi-voiced, synthetic portraits, each within a framework of social history and a poetics of partiality—she speaks from the persona of Charlotte Salomon, child of assimilate, German-Jewish parents and grandparents and killed by the Nazis at the age of twenty-six; she appropriates passages from the Rosh Hashanah and Yom Kippur services; and juxtaposes them against stanzas that mourn her sister's death and those that celebrate non-traditional families. Organized around the long meditations, other poems show Becker's dexterity with formal verse (sestina, sonnet, tercets) and her imaginative engagements with free verse.

The Horse Fair takes its name from Bonheur's monumental painting and serves as the vehicle through which Becker explores anti-Semitism, cross-dressing, and Bonheur's lifelong relationships with women. In Becker's hands, The Horse Fair transports us to the communal plaza where we come to barter and to buy, to study one another, to touch the foundation upon which we build our temporary habitations.


About the Author
Robin Becker is professor of English and women's studies at The Pennsylvania State University, is the author of six collections of poetry, including The Horse Fair, All-American Girl, and Giacometti's Dog. In 2002, the Frick Art and Historical Center in Pittsburgh published Venetian Blue, a limited-edition chapbook of Becker's art poems. Becker is the recipient of individual fellowships from the Bunting Institute, the Massachusetts Cultural Council, and the National Endowment for the Arts. In 2000, she won the George W. Atherton III Award for Excellence in Teaching from Penn State.

Praise For The Horse Fair (Pitt Poetry Series)…
"Robin Becker's The Horse Fair, her fifth collection, may be her best yet. From its opening, these poems demonstrate a spare elegance in the line, and many phrases are simply breathtaking in their imagery, compression, music, and emotive power."
--Arts & Culture
"Becker seems to have found a kind of bittersweet peace for herself. . . . This generous poet is never less than attentive and responsive to the world that surrounds her."
—The New York Times Book Review
"Through a wide variety of forms, Becker's strong yet soulful voice is especially adept at studying people forced to coexist on the fringe."
—Orlando Sentinel
"Throughout The Horse Fair, Becker's painstaking, empathic use of language celebrates a patient yet intrepid dedication to art as well as the indomitable spirit of life---human or otherwise---in the face of oppression and death. . . . The Horse Fair contains Robin Becker's strongest poetry to date."
—West Branch
"What I love in Robin Becker's poems is how much the world is with her; characters, histories, animals, places, and things crowd onto these pages, inscribing them with the cries of the living. Becker is against silence; she instructs the world, instead, to 'Harpsichord me. Entail me. Depose me' in these shapely poems marked by her curious, tender, worldly presence."
—Mark Doty
"It's hard to know where to begin praising this collection, it contains so many virtues:  unremitting, intellectual brilliance and acute historical understanding, especially about being an outsider and a survivor.  I go to Robin Becker's poetry as I might go to a great novelist like George Eliot or Carol Shields—to experience the news they bring back from the world and its interpretation by a major mind."
—Jonathan Holden
"I treasure these redemptive poems by Robin Becker, who writes with compassion and amazing vitality about the grief, afflictions, and foibles of trees, animals, and humans bound together on this dangerous planet. Her book is an exquisite manual on how to live."
—Shirley Kaufman
"Describing a woodpecker, Robin Becker writes, 'Far-flung orbit of energy . . . a restless aptitude drives her hungers . . .' She could just as well be describing her own far flung imagination, her own hungers made manifest in language. The Horse Fair is a beautifully crafted book, wise and forgiving."
—Linda Pastan
or
Not Currently Available for Direct Purchase