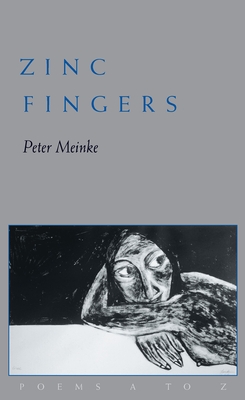 Zinc Fingers (Paperback)
Poems A to Z (Pitt Poetry Series)
University of Pittsburgh Press, 9780822957249, 104pp.
Publication Date: July 20, 2000
* Individual store prices may vary.
Description
In Peter Meinke's eleventh collection, he writes poems of humor and sadness. His poems speak truth with the self-assurance of a man willing to laugh at himself and, by extension, he invites us to laugh at ourselves as well.
About the Author
Peter Meinke holds the Darden Chair in Creative Writing at Old Dominion University. He has been a professor of literature and creative writing at Eckerd College and has served as writer-in-residence at numerous colleges, including University of North Carolina at Greensboro and the University of Hawaii. Meinke has published numerous  books of poetry, including Scars, Zinc Fingers, and Liquid Paper. He is also the author of six poetry chapbooks and the recipient of numerous awards, including the Olivet Prize, the Paumanok Award, three Poetry Society of America Awards, the Flannery O'Connor Award, and two NEA Fellowships.
Praise For Zinc Fingers: Poems A to Z (Pitt Poetry Series)…
"In the best of Meinke's work his impressive skills yield poems of scope and extraordinary power. . . . His greatest gift may be his ability ot shed enormous light through small windows. . . . Most of us can mulch and most of us can muse, but only a genuine poet can forge that lightning connection between such things over and over again."
--Tampa Times
"Thank God for Peter Meinke's voice of literary sanity, for these poems of a lovable, beleaguered man trying to make sense of a difficult world. <I>Zinc Fingers</I> is a delight from beginning to end."
--Edward Field
"That he can remain so accessible and still maintain his masterful command of formal poetic structure and complexity is his real strength and has earned him his honored position among American poets today. . . . Readers and lovers of language will delight in this book, but it could easily make a reader and lover of language out of anyone. Need a bit of poetry in life? A verse or two at breakfast, a couple for cocktails and a special one for bedtime are bound to make life better."
––The Tampa Tribune
"Meinke is the Alex Rodriguez of contemporary poets, i.e. the complete package. He can write in classical forms -- sonnets, villanelles, sestinas ---blank verse, free verse, even a concrete poem here and there. Meinke is the most human of poets. His love poems are never blind to the pain of loss, his poems about the humor of daily life always contain a little nod to the heartbreak of living. If I had to put together a team for a Rotisserie Poetry League, my first pick would be Peter Meinke."
—Bookselling This Week
"Some poems among 68 in this collection are old favorites, but many are new and sure to delight Meinke's readers, who love his playful profundity, his witty way with words and, perhaps most of all, his accessibility. . . . Readers and lovers of langauge will delight in this book, but it could easily make a reader and lover of language out of almost anyone."
—Tribune and Times
or
Not Currently Available for Direct Purchase