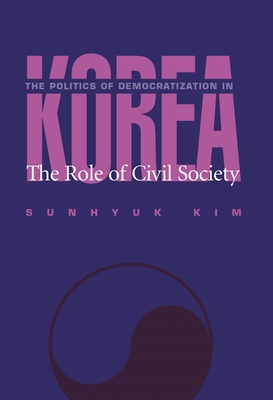 The Politics Of Democratization In Korea
Paperback

* Individual store prices may vary.
Description
What role did civil society play in Korea's recent democratization? How does the Korean case compare with cases from other regions of the world? What is the current status of Korean democratic consolidation? What are the prospects for Korean democracy?
In December 1997, for the first time in the history of South Korea (hereafter Korea), an opposition candidate was elected to the presidency. Korea became the first new democracy in Asia where a horizontal transfer of power occurred through the electoral process. Sunhyuk Kim's study of democratization in Korea argues that the momentum for political change in Korea has consistently emanated from oppositional civil society rather than from the state. He develops a civil society paradigm and utilizes Korea's three authoritarian breakdowns (only two of which resulted in democratic transitions) to illustrate the past and present influences of Korean civil society groups on authoritarian breakdowns, democratic transitions, and post-transition democratic consolidations.
One of the first systematic attempts to apply a civil society framework to a democratizing country in East Asia, The Politics of Democratization in Korea will be of use to political scientists and advanced undergraduate and graduate students working in comparative politics, political theory, East Asian politics, and the politics of democratization.
University of Pittsburgh Press, 9780822957362, 196pp.
Publication Date: December 21, 2000
About the Author
Sunhyuk Kim is an assistant professor in the department of political science at the University of Southern California. From 1994 to 1996, he was a MacArthur fellow at the Center for International Security and Cooperation at Stanford University. Kim has published numerous articles on Korean politics in journals such as Democratization, Asian Survey, Journal of Northeast Asian Studies, Asian Perspective, and Korea Journal, and has contributed to a number of edited collections.